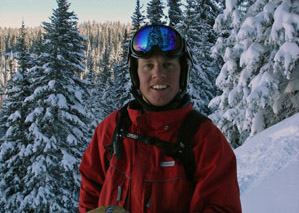 Proud to be a fifth generation native Coloradan, Reid Griebling has lived in Vail since he was two years old. An avid skier, golfer and weather watcher, Reid spends much of his time scanning the skies and surfing the web to see what Mother Nature has in store for the Valley.

For over 11 years, Reid spent his summers working at local Valley golf courses. During his time as a teaching golf professional, Reid was instrumental in organizing several of the Valley's successful junior golf programs. When the summers ended and the snow started to fall, Reid hung up his golf clubs, and happily put on his ski boots for his winter job on Vail Mountain as part of the Vending Department (a.k.a. "Team Vendo"). Reid's every working day in the winter was spent helping to maintain the various vending equipment, lockers, token machines, etc., all over Vail Mountain. With the mountains as his "office" Reid couldn't help but learn many of its secrets, including weather patterns.

Reid relinquished his mountain office in 2006 to work alongside his mother Nancy and brother Dave in the family's business, The Linen Kist. In December of the same year, Reid married his long time love, Regina, on top of Vail Mountain (on skis, of course!). Reid and Regina live in Singletree with their two children and two cats.


More about the author:
Reid Griebling
Send Reid an Email
Powder Predictor Blogs

Publication Date
Section
Headline
04-22-2011
blog
Last days for Vail, more snow in the forecast
04-18-2011
blog
Last week of skiing before 'Mud Season'
04-11-2011
blog
Spring once again on tap, then more snow
04-06-2011
blog
More unsettled weather over the weekend
04-03-2011
blog
Dramatic weather change will end festive weekend
04-01-2011
blog
Summer-like weather for Saturday; snow and wind by Monday
03-30-2011
blog
Another whopper storm washes away spring thoughts
03-27-2011
blog
Winter weather stalls spring; snow piling up
03-25-2011
blog
Wave of wet weather welcomes the weekend
03-21-2011
blog
Spring is sprung with wet weather in Vail, Aspen
03-16-2011
blog
Another round of snow for Vail, Beaver Creek
03-14-2011
blog
Weather pattern changes as springtime in the Rockies begins
03-10-2011
blog
Chance of mountain snow for weekend
03-07-2011
blog
Snow again in Vail Valley forecast, but totals look moderate
03-05-2011
blog
Big spring storm moving into Vail early in the week
03-02-2011
blog
Weekend outlook promising for new snow at Vail, Aspen
02-28-2011
blog
Warm start to March at Vail, Beaver Creek as winter returns late week
02-24-2011
blog
Snowy weekend in store for Vail, Aspen
02-23-2011
blog
West to east flow returns to Colorado, Vail Valley; snow back in forecast
02-18-2011
blog
Snowfall returns to Vail/Beaver Creek for holiday weekend
02-16-2011
blog
Vail, Beaver Creek to see another shot of snow
02-11-2011
blog
Tranquil weather moves back into Colorado
02-09-2011
blog
Vail, northern mountains will dry out after five-day snow cycle
02-07-2011
blog
Mother Nature queen of Colorado
02-03-2011
blog
Another active weather weekend in Vail as famed northwest flow returns
01-30-2011
blog
Winter returns to Vail Valley as cold Arctic air welcomes February
01-26-2011
blog
Shift in weather pattern will drive warmer, drier weather in Vail Valley, Aspen/Snowmass
01-20-2011
blog
Late barrage of snow gives Vail Valley deep days
01-16-2011
blog
Powder dreams to be had in Vail Valley for MLK holiday
01-12-2011
blog
Series of storms moving into Vail, Beaver Creek
01-09-2011
blog
Snow on the ground in Vail Sunday; colder temps and more accumulation expected
01-06-2011
blog
Brief sunshine before another change
12-31-2010
blog
Cold weather to ring in New Year in the Vail Valley
12-29-2010
blog
Snow, wicked cold heading into Vail Valley for New Year's Eve
12-27-2010
blog
Snowy Start to the New Year for Vail; Aspen
12-23-2010
blog
Sunny, cold Chirtmas Day expected in Vail Valley
12-20-2010
blog
Pacific moisture sticks around Vail, Beaver Creek through Christmas Eve
12-17-2010
blog
Pacific moisture keeps pouring into Colorado; Vail, Beaver Creek see more snow
12-14-2010
blog
Guess what? Still more snow on the way for Vail, Beaver Creek this week
12-12-2010
blog
High pressure building in after eventful weekend, but more snow heading Vail's way Tuesday
12-08-2010
blog
Vail Snow Daze heats up the Vail Valley, with still more snow in the forecast
12-06-2010
blog
With Birds of Prey races coming to a close in Beaver Creek, it's Vail's turn to light up the scene
12-04-2010
blog
Race weekend is here, with fast course and variable weather
11-30-2010
blog
More snow arrives as Vail, Beaver Creek gear up for World Cup weekend
11-23-2010
blog
Potential blizzard conditions expected with tonight's storm
11-20-2010
blog
Huge pre-Thanksgiving storm lined up out west, taking dead aim at Vail, Beaver Creek
11-16-2010
blog
Vail, Beaver Creek, Aspen, Snowmass grateful for pre-opening day snowfall
11-12-2010
blog
Active weather roars into Colorado mountains; more in the near future
11-07-2010
blog
Pomp and pep rallies prep Vail's opening day countdown
10-09-2010
blog
Snowcapped mountains welcomed as golf season nears an end
10-01-2010
blog
Wonderful weather for women golfers
09-23-2010
blog
Fall season is upon us, and El Niño is nowhere to be found
Contact by email:
Send Reid an Email