Huge pre-Thanksgiving storm lined up out west, taking dead aim at Vail, Beaver Creek
Tuesday looks like the deepest day in the Vail Valley
Satisfied? Was it everything you hoped it would be? Vail's opening day had people hooting and hawing all over the front side of Vail mountain as nearly 1,200 acres of terrain were opened.
Many of you haven't had an opening day this good for at least four years. The good news is there is one more gigantic storm lined up out west, pouring heavy rain in California, with blowing snow in areas like the Wasatch Mountains of Utah and the Tetons of Wyoming.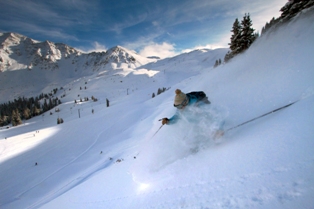 A large trough of low pressure will begin to move east over much of Utah by this evening, leaving snow, wind and valley rain in its wake. Warm southwest flow will keep our area partly cloudy and warm through the remainder of today (Saturday, Nov. 20).
Most forecasts have Vail and Aspen expecting snow by this evening. However, with warm daytime temps, I don't think we will see any accumulating snow until midday Sunday, Nov. 21.
That being said, when the brunt of this storm hits the Western Slope, we'll be in for one helluva Sunday night as winds will increase into the 30 mph range in the valleys with gusts into the 60 mph range over mountain tops, making winter driving almost impossible.
Monday and Tuesday look to be snow-packed as the trough moves south, bringing with it great dynamics with plenty of moisture from the Pacific. Snow totals for Monday morning (Nov. 22) should be in the 4-8 inch range, with snow falling off and on all day Monday.
On-mountain temps will fall into the 20s, with gusty winds shifting from southwest to northwest. Expect winds in the 15-25 mph range on mountain with gusts in the 35 mph range.
Tuesday, again, looks promising, as this forecaster thinks we will see at least a foot of snow overnight Monday into Tuesday due to the shifting of the winds out of the northwest. Temps for Tuesday will drop into the teens on mountain as colder air will follow this large trough.
Beaver Creek opens just in time to catch this cycle, dropping its ropes on Wednesday, Nov. 24.
Aspen and Snowmass will benefit from this storm early as the southwest flow will bring heavy snow Sunday night into Monday. Once the front moves through, snow will turn to showers for Monday and Tuesday. Expect a storm total of 10-20 inches by late Tuesday with locally higher amounts on southwest facing slopes.
Temps for the Roaring Fork Valley will be much the same as the Vail Valley, with southwest winds keeping things warm until Monday when the front moves through. Winds will gust into the 50's over the peaks with on mountain wind in the 15-25 mph range.
A cold Thanksgiving should be expected in the mountains of Colorado as we see brief clearing for next weekend. Overall, a great cycle to start out the season, and with many resorts opening for the Thanksgiving holiday, it looks like Colorado is the place to be for winter gurus.
Enjoy!
---

253 Comments on "Huge pre-Thanksgiving storm lined up out west, taking dead aim at Vail, Beaver Creek"