Riverfront Club at the Westin Mountain Bike Race Series continues Wednesday with the Vail Grind
The Riverfront Club at the Westin (RFC) Mountain Bike Race Series continues Wednesday (7-20) with the Vail Grind on Vail Mountain.The race, the Vail Grind, presented by First Bank of Vail, will have participants ages eight and older race on 1.5 to 16 miles of single track trails on Vail Mountain. This is the fifth race of the seven race series, which is presented by East West Resorts.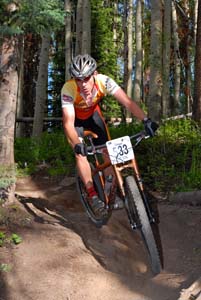 Individual race costs are $25 for preregistration or $35 on race-day. Registration is available by clicking here. Preregistration for individual races ends at 5 p.m. tomorrow (7-19) and day-of registration will end at 5:30 p.m. The races will begin at 5 p.m. with the Larkburger Youth Series for riders ages 8 to 14, followed by all adult race categories at 5:45 p.m. The is no Never Ever category for this race. The Vail Bike Tech, the official shop of the Vail Grind, will be onsite to provide neutral support for racers with last minute mechanical issues.
The race will include an after party at the Tavern in the Arrabelle at Vail Square with a free keg of beer provided Bud Light. Prizes also will be presented after the race to the top three finishers of each category, as well as a raffle prize drawing featuring products from race sponsors, area merchants and national companies.
The next race in the RFC mountain bike series will take competitors back to Eagle for the Boneyard Brawl, returning for its second summer, on Aug. 3. Then on Aug. 17, racers will end the series with the Beaver Creek Blast in Beaver Creek.
In addition to the Riverfront Club at the Westin and East West Resorts, sponsors of the 2011 races include The Dusty Boot, Technovia Consulting, FirstBank of Vail, Optic Nerve, Aberle Investment Management, Vail Mountain, Beaver Creek Resort Company, Terry Bicycling Company, KZYR 97.7, Plum TV, Vail Daily, Bud Light, Endura, Hestra Gloves, Vail Honeywagon, Outdoor Technology, Rocky Mountain Reprographics, Bamboo Bottle Company, Camelbak, Back Bowl and Steadman Clinic. The 2011 Youth Series is presented by Larkburger and KidSPORT. Photos of the 2011 race series will be taken by Scott McClarrinon and available by clicking here.
Registration, course information and start times are available by clicking here or calling 970-479-2280. For information on all other VRD programs and activities, click here or call 970-479-2279.
---

0 Comments on "Riverfront Club at the Westin Mountain Bike Race Series continues Wednesday with the Vail Grind"
Be the first to comment below.