Chapin Carpenter celebrates second lease on life at Beaver Creek's Vilar Center
On her 1992 breakthrough album Come On Come On, Mary Chapin Carpenter sang, "We've got two lives, one we're given, the other one we make." For her, that estimate now seems too conservative.
Chapin Carpenter's current tour, which touches down in Beaver Creek at the Vilar Performing Arts Center Thursday evening, July 29, at 8 p.m., will not only reintroduce her much-loved country hits and more recent, yet less familiar, material to audiences, but will also give her the chance to play songs from the critically lauded 2007 recording, The Calling, since, "life interrupted", just as that tour was to get underway.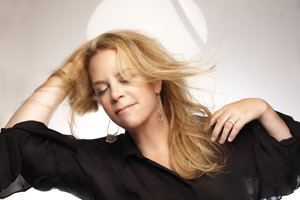 As the tour, which included a Vilar stop, was just hitting its stride, Carpenter experienced severe chest and back pain. She continued to perform until a bout of breathlessness took her to the emergency room, where she learned she had suffered a pulmonary embolism.
"Everything I had been looking forward to came to a screeching halt," Chapin Carpenter told National Public Radio. "I had to cancel my upcoming tour. I had to let my musicians and crew members go. The record company, the booking agency: I felt that I had let everyone down. But there was nothing to do but get out of the hospital, go home and get well."
Now, with the April release of her 12th recording, The Age of Miracles, it's not an overstatement to suggest that it's a rebirth --- a third life for her. The album is a personal exploration of regret and resilience, but also a larger, more universal expression of wonder at the times we are living in.
Carpenter's lyrics often speak of life experiences, winning and losing, and staying true to her ideals. Her ability to connect with personal themes made her popular with both men and women.
"I think writing, if you really work at it," explained Carpenter, "has the ability to show you things you might not see otherwise, in yourself and the world around you. I just let my mind run free and see where it goes."
In 1987, Carpenter released her folksy debut album, Hometown Girl. The album contained long ballads that revealed her talents as a gifted songwriter, but received mostly college radio airplay.
Her second album, State of the Heart, was released in 1989 and was well received by critics, while also making her a commercial success. The album went gold, and two songs, "Never Had It So Good" and "Quitin' Time," made Billboard's top ten list. The album also earned major awards for the Top New Female Vocalists by the Academy of Country Music and a Grammy award nomination for Best Country Vocal Performance/Female.
In 1990, Carpenter hit platinum with her album Shooting Straight In The Dark. The song "Down at the Twist and Shout" reached number one and won her a Grammy award for Best Country Vocal Performance/Female. However, it was the song "Middle Ground" that captured a theme and made her a darling of the 30-something crowd. The song was really about a conversation she had with her sister on searching for a middle ground and avoiding the extreme highs and lows of life with work, relationships, and friends.
Carpenter would go on to win four Grammy awards from 1991-94, the most by any artist. Come On Come On, her 1992 release, moved Carpenter into the stratosphere of the country music scene. The album went triple platinum, received three Grammy awards, had seven hit singles, and spent two years at the top of the Billboard's charts.
While kids cutting their teeth today in country music on the likes of Miranda Lambert and Taylor Swift probably see Carpenter as the queen of conservative country, she has proven herself an outstanding judge of left-field material and a writer whose smart, saucy, unabashedly book-fed songs put a whole new spin on "countrypolitan".
Tickets for Mary Chapin Carpenter are priced at $72 and are available online at vilarpac.org, by phone at 888.920.ARTS(2787) or in person at the Vilar Center box office in Beaver Creek. Tickets are available online 24 hours a day; the box office is open Monday through Friday from 11am-5pm MST, with additional hours on performance days.
The Vilar Performing Arts Center is a project of the Vail Valley Foundation. For more information on the Vail Valley Foundation, visit vvf.org.
---

42 Comments on "Chapin Carpenter celebrates second lease on life at Beaver Creek's Vilar Center"