Vail Mountain, gondolas set to open for summer season
Vail Mountain opens for daily summer operations on Thursday, June 20 beginning at 10 a.m. Gondola One in Vail Village and the Eagle Bahn Gondola in Lionshead will both be operating daily through Sept. 2 for scenic rides and bike hauls.
The majority of additional summer activities and on-mountain dining will be based out of Eagle's Nest at Adventure Ridge. The Eagle Bahn Gondola and Adventure Ridge will also continue to operate on weekends throughout the month of September.
Open trails on Thursday will include Berrypicker and Fireweed up to the top of Gondola One for hiking, and portions of Hank's Hideaway, Fred's Lunch, Lionsdown, Cubs Way, Gitalong Road, Big Mamba and Onza Alley for mountain biking.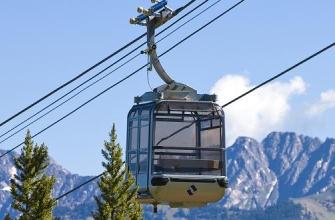 Guided hiking and biking tours return to Adventure Ridge for the second summer season after a late debut last summer. The tours offer a great way for guests to enjoy lower level hiking and mountain biking trails and familiarize themselves with the trail system on the mountain, all with the help of a knowledgeable and friendly guide. Morning and afternoon tours are offered daily throughout the summer.
Construction continues at Adventure Ridge for Vail's newest summer activities which will include a four-line 1,200-foot long zip line, two aerial challenge courses, a kids zip line and a low ropes course. These activities are expected to open to the public in early-August.
Adventure Ridge
High atop Vail Mountain and just off the top of the Eagle Bahn Gondola, Adventure Ridge offers endless options for summer activities for the entire family can, including the Top of the Mountain Tours, horseback tours, disc golf, bungee trampolines, a climbing wall as well as pony rides and Dino Dig for Vail's youngest visitors. Complimentary activities include the slackline park, horseshoes and bean bag toss, as well as Vail's original mountaintop Friday Afternoon Club (FAC) at Eagle's Nest, featuring complimentary live music and food and drink specials every Friday beginning June 28. For more information on summer activities at Adventure Ridge and the full FAC summer lineup visit www.vail.com.
Gore Creek Mini Golf
Situated at the base of the Born Free Express Lift (#8) across from the Lionshead ticket office, Gore Creek Mini Golf provides putting fun for all ages on nine, par-three holes. Each hole features an interpretive animal theme that spotlights local Vail Valley animal species and provides educational background and information. Open daily from 10 a.m. to 9 p.m.
On-Mountain Dining
Refuel while indulging in views of the Vail Valley, Gore Range and Mount of the Holy Cross over lunch at 10,350 feet on Talon's Deck at Eagle's Nest open daily beginning Thursday, June 20. Mid-Vail will also offer lunch daily at Sarge's from 11 a.m.–4 p.m.
Bistro Fourteen also opens this Thursday and will operate on Thursdays, 5–8:30 p.m.; Fridays and Saturdays, 11 a.m.–8:30 p.m.; and Sundays 11 a.m.–5 p.m.
Game Creek Restaurant opens for Sunday brunch on June 23 at 11 a.m. Dinner service begins on Thursday, June 20 from 5:30–8:30 p.m. through Sunday, Sept. 2. Regular summer hours for dinner will include Thursdays, Fridays and Saturdays with après specials on the deck from 5:30–7 p.m. and brunch on Sundays from 11 a.m.–2 p.m.
Lift tickets are required to ride Gondola One and the Eagle Bahn Gondola during the summer and can be purchased at the Vail Village or Lionshead Ticket Offices. 2013–2014 season pass holders receive unlimited, free scenic access to the both gondolas. Guests who have not yet secured a pass for next winter can purchase online at www.epicpass.com.
Summer 2013 Gondola Dates & Hours
Gondola One*
Daily: Thursday, June 20 – Monday, Sept. 2
10 a.m. to 4 p.m.
*Bikes will be allowed up the gondola until 4 p.m.
Eagle Bahn Gondola and Adventure Ridge**
Daily: Thursday, June 20 – Monday, Sept. 2
10 a.m. to 6 p.m., Sunday through Wednesday
10 a.m. to 9 p.m., Thursday through Saturday
Weekends-Only: Sept. 6-8, 13-15, 20-22 and 27-29.
10 a.m. to 6 p.m., Friday through Sunday
**Bikes will be allowed up the gondola until 6 p.m.
As always, guests are reminded to obey all posted signs and closures. Helmets and sturdy shoes with a good tread are recommended for bicyclists at all times and all bikes must have two working hand brakes. All mountain bikers must obey the National Off-Road Bicycle Association (NORBA) code, printed on Vail Mountain's summer trail map.
For more information about Vail Mountain visit www.vail.com, or stop by the Mountain Information Center, open daily from 9 a.m.–4:30 p.m., or call (970) SKI-VAIL (754-8245).
---

10 Comments on "Vail Mountain, gondolas set to open for summer season"