GoPro Mountain Games to feature world slackline championships
Gibbon Slacklines is pleased to announce it will be hosting the 2013 World Slackline Federation World Championships at the GoPro Mountain Games in Vail. Taking place June 8-9, the championships is a competition where the world's top eight professional slackliners will battle head-to-head for the overall title.
In addition to the competition, the Gibbon pro athlete team will thrill extreme sports lovers with an exhilarating highline demonstration and interactive area for attendees to try the sport out for themselves.
"The GoPro Mountain Games represents the best in extreme and adventure sports for amateurs and pros alike," said Emilio Torres, vice president of sales at Gibbon Slacklines. "This is one of our most highly anticipated events where we will not only host the sport's top athletes, but continue to introduce slacklining to thousands of outdoors lovers."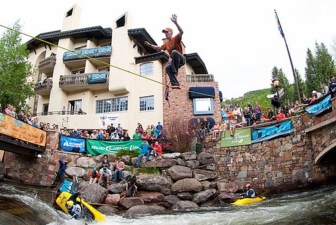 Athletes vying for the top title include the current world champion and number two ranked slackliner, athlete Lukas Huber from Italy, as well as 15-year-old Alex Mason, the number one ranked slackliner and poster-boy for the the sport's fastest growing demographic. Also competing will be Andy Lewis, the slackliner famous for his Super Bowl XLVI performance with Madonna, as well as Toru "Gappai" Osugi from Japan and Germany's Benjamin Schmid.
On Friday, June 7, Gibbon will host the Slackline Jam where 16 athletes will compete head-to-head for points in the world ranking. The World Championships will take place on Saturday and Sunday, and the interactive zone and highline demonstrations will take place throughout the entire weekend.
For the outdoor sports lovers unable to attend, NBC Sports will be featuring three different one-hour telecasts of the GoPro Mountain Games, including the slackline competitions, following the event. These are scheduled for Sunday, June 23 at 4 p.m. EST, Wednesday, July 2 at 4 p.m. EST and Wednesday, July 9 at 5 p.m. EST.
For those unfamiliar with the sport, slacklining is the act of balancing along a narrow, flexible piece of webbing which is low to the ground and usually anchored between two trees. For more experienced slackliners, tricklining is executing different tricks, flips and jumps on the line while continually developing more creative moves with bigger air and advanced skill.
Slacklining is skyrocketing in popularity as an extreme sport, fitness trend and backyard activity for families thanks to global exposure during the Dew Tour, Madonna's 2012 Super Bowl halftime performance and MDNA tour, NBC's "The Office" and more. Gibbon is the world's leading slackline manufacturer and is rapidly building the sport with its top-level pro team and by hosting competitions across the U.S. Gibbon's easy-to-use equipment makes the sport accessible for anyone, from athletes to families.
To learn more about Gibbon Slacklines, please visit www.gibbonslacklines.com/us and for more information about the GoPro Mountain Games, visit http://www.mountaingames.com/summer.
---

82 Comments on "GoPro Mountain Games to feature world slackline championships"