Vilar Performing Arts Center celebrates 15th anniversary with Ailey II on Nov. 9
On Friday, Nov. 9, the Vilar Performing Arts Center will reach an important milestone, celebrating its 15th anniversary as its Winter Series commences with the globally celebrated dance company Ailey II.
Formed by famed choreographer Alvin Ailey in 1974, the Company will present an evening comprised solely of his works, including his very first piece created in 1958, Blues Suite, and his most famous masterpiece, Revelations.
Ailey II represents a group of young artists, 19-22 years old, who are making the transition from student to professional. Hardly a "recital" format for rising talent, the company features young, dedicated performers who surprise even their own director with the energy and professionalism they bring each time they take the stage.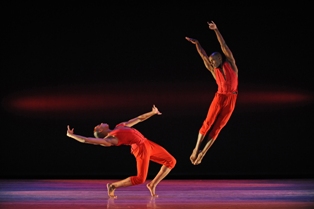 An All-Ailey program was selected for Colorado specifically because Ailey's work has not been performed much here in recent years, and there was a desire to show his artistry and tell his story to the VPAC audience.
"A look back on the great works of Alvin Ailey seems fitting for the kickoff to a season when the Vilar looks back on its own highlights and successes," said Kris Sabel, Executive Director for the VPAC. "We're also paying homage to Mr. Ailey, who was instrumental in bringing dance and education to students who lacked access to the arts, by offering this show and many others in our season at a special discounted rate for our young attendees. We could not have asked for a better start to our anniversary season with Ailey II."
Ailey II is on sale now with tickets priced at $30 for adults, and just $15 for students. The performance, which starts at 7:30pm on Friday, Nov. 9, will follow two "mini performances" that day, which are put on for Eagle County Students via the STARS (Support the Arts Reaching Students) program. STARS allows students to attend VPAC performances and receive cultural education free of charge, thanks largely to the contributions of Pat and Pete Frechette.
"This summer, the Vail Valley was treated to an incredible two-week lineup of dance at the Vail Valley Foundation's Vail International Dance Festival," said Sabel. "Ailey II, along with our other dance programming and many other show types that we offer, allow for year-round cultural enrichment and entertainment in our community beyond the summer season. We hope that established and brand new dance fans alike will come and experience Ailey II on our stage."
Tickets for Ailey II are on sale now and available online at vilarpac.org, by phone at 970.845.TIXS or in person at the VPAC Box Office in Beaver Creek. The full winter season for the VPAC will go on sale to the public Nov. 12.

The Vilar Performing Arts Centeris a project of the Vail Valley Foundation. For more information on the Vail Valley Foundation, visit vvf.org.
Upcoming performances in the VPAC Winter 2012-13 Lineup:
• Ailey II–Friday, Nov. 9
• Toots and the Maytals Unplugged Acoustic Tour with Anders Osborne – Sunday, Nov.11
• Handel's Messiah, Saturday, Dec. 15
• Jonas Kaufmann – Sunday, Jan. 13
• RiverNorth Dance Chicago – Tuesday, Jan. 29
Tickets and more information: www.vilarpac.org or 970.845.TIXS.

---

0 Comments on "Vilar Performing Arts Center celebrates 15th anniversary with Ailey II on Nov. 9"
Be the first to comment below.