Wilderness Workshop offers free guided hike to highlight proposed Lower Piney wilderness area
On Sunday, August 12th, Wilderness Workshop of Carbondale will continue their 2012 hike series with a hike into the Lower Piney area.
This free outing is a moderate, 4 to 6 mile hike through wilderness quality lands adjacent to Eagle's Nest Wilderness Area. Please sign up for this hike at www.whiteriverwild.org or contact Dan Ben-Horin at 970-389-8234
The Piney River begins at Piney Lake, north of Vail, and flows into the Colorado River at State Bridge. The north portion of the area is on Piney Ridge, which separates Piney River from Sheephorn Creek. This is where the hike will take place on Sunday. Many wooded tributary drainages dissect the landscape, which ranges in elevation from 7,800 feet on the Piney River to 11,107 feet at Chimney Rock. Spruce/fir forests dominate the hills, with lodgepole pine and aspen in the drainages. The landscape is a favorite of deer, elk, bear and countless small mammals. It also has high potential for lynx habitat.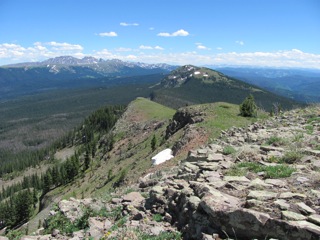 Senator Mark Udall is championing major new wilderness additions on the White River National Forest and nearby Bureau of Land Management lands in Summit, Eagle, Gunnison and Pitkin counties. The proposal will create several brand-new, stand-alone wilderness areas, such as Williams Fork, and enlarge the existing ones like Eagle's Nest. The proposal would also create special management areas like Hoosier Ridge. While the Lower Piney area isn't included in Senator Udall's proposal, it's still an important corridor between the Eagles Nest Wilderness Area and lower-elevation BLM and state-owned rangelands in the Kremmling area, as well as a corridor to the northern Gore Range. It supports large herds of elk and mule deer and is a popular hunting area.
Wilderness designation is the strongest, most permanent protection for untrammeled landscapes on public lands, ensuring the opportunity for future generations to experience the land in its most pristine state. Learn more about wilderness and its protection at www.wildernessworkshop.org.
---

14 Comments on "Wilderness Workshop offers free guided hike to highlight proposed Lower Piney wilderness area"