Two-way Everest climber Miller to keynote second Women's Empowerment Workshop in Vail
The only American woman to climb Mt. Everest from both Nepal and Tibet will be the keynote speaker at the Second Annual Women's Empowerment Workshop in Vail, Colorado, September 13-16. Ellen Miller joins an illustrious group of facilitators, authors, and life coaches who will lead women to discover the power of nature and themselves in this four-day nature adventure retreat.
Miller is one of America's leading female alpinists, having climbed four 8,000-meter peaks in Nepal and Tibet. She is only one of five women worldwide who has ascended Everest from Nepal and Tibet. She guides treks and climbs in the Himalayas and coaches the U.S. Women's Mountain Running Team. Miller lives and works in Vail as a fitness coach for people of all ability levels.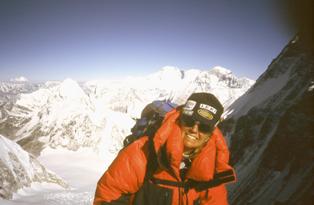 "I'm excited to be speaking to the Women's Empowerment Workshop group in Vail this year. We all need encouragement and inspiration to reach our highest potential," offered Miller. "I love the nature-based life coaching that the women will receive and am excited to hear about some of the 'aha' moments they experience while hiking, rock climbing, rafting, and learning from healing horses."
Women's Empowerment Workshop takes women outward into nature to go inward and develop important tools like grounding, teamwork, self-confidence, trust, and self-awareness. Workshop participants will be guided by expert facilitators, including life coach Dr. Joan King, founder of Cellular-Wisdom; Melisa Pearce, equine therapist and founder of Touched by a Horse; wilderness therapist, Josie Fenton of Lodestone Way; Tanya Miller, founder of Trailwise Guides; and Susie Kincade, Women's Empowerment Workshop co-founder.
Hosted by the Vail Racquet Club Mountain Resort and sponsored in part by the Center for Women in Business, a project of the U.S. Chamber of Commerce, Women's Empowerment Workshop is open to women of all ages and abilities. Cost is $1,550 for the four-day retreat, which includes all guided outdoor explorations, social events, meals, speakers, and one-on-one consultations. Registration ends August 17.
"This is the most powerful workshop experience I've ever had and will be a springboard toward endless growth," offered Karen Greenberg, a past participant and attorney.
Visit the website and register on-line at www.womenempower.us, watch a video, and call 877-595-8622 for more information.
---

13 Comments on "Two-way Everest climber Miller to keynote second Women's Empowerment Workshop in Vail"