VRD's La Sportiva Vail Mountain Trail Running Series continues Saturday at Beaver Creek
The Vail Recreation District's (VRD) 2012 La Sportiva Vail Mountain Trail Running Series will continues this week with the La Sportiva Summer Solstice Trail Run on Saturday, June 16, featuring a 5k walk/run, a 10k run and a kid's fun run on Beaver Creek Mountain.
The Summer Solstice race will benefit the Vail Valley Charitable Fund (VVCF) with racers enjoying free food from Moe's Original BBQ and music by local, Blue Grass favorite, Hardscrabble. Festivities begin at 10:30 a.m. with the Vail Daily Kid's Fun Run, followed by the Beck Building Company 5k and the FirstBank 10k at 11 a.m.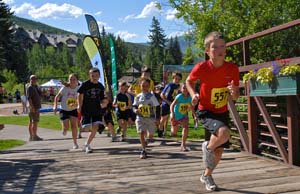 This is the second race in the seven race trail running race series, which is presented by Columbia Sportswear who is providing all running participants at each race with its innovative Omni-Freeze ICE tech T-shirts.

Proceeds from the race will benefit the VVCF, a non-profit organization founded in 1996 that provides financial assistance to residents of Eagle County who are experiencing a medical crisis. According to Karen Simon, VVCF Executive Director, the VVCF raised and distributed more than $400,000 to locals in need last year and the trail run is important to its success.
"We're so fortunate to be the beneficiary of the Solstice Run," said Simon. "The VRD and Beaver Creek put on a great event of racing and a fantastic party for the whole family. Racers benefit from the beautiful setting, challenging courses, friends and the after-race festivities while also providing crucial support for locals with medical crises."
Summer SolsticeFree parking for the Summer Solstice is available at the base of Beaver Creek Mountain in the parking garages on a first-come, first-served basis. Additional parking is available at the base lots with free shuttle transportation to Beaver Creek Village.
The race begins and ends in Creekside Park and racers will run on single track and cat track trails including, Beaver Creek Village Trail, Aspen Glade, Lost Buck Spur and Corkscrew. The 5k route gains 811 feet in elevation while the 10k gains 1,535 feet in elevation. There is one aid station on the 5k course and two aid stations on the 10k course.
Sponsors of the on-course aid stations are Brill Insurance Agency and East West Resorts with start and finish refreshments sponsored by Colorado Mountain Medical.
Registration for the event begins at 10 a.m. in Beaver Creek Village. Entry fees are $35 in advance and $45 on race day with proceeds benefiting the VVCF. The kid's fun run is free. Registration is available by clicking here or at www.active.com. Bib pickup will also be available from 3 to 6 p.m. Friday (6-15) at Christy Sports in Vail Village.
Prizes will be presented to the top three finishers of each age group at each race, with series prizes awarded to the top three finishers who compete in at least five events. Raffle prize drawings also will be held at each awards ceremony featuring products from area merchants and national companies.
The La Sportiva race series continues on Saturday, July 7 for the 36th running of the La Sportiva Vail HillClimb. This 7.5 mile route offers 2,200 foot vertical ascent from the base of Vail Mountain to the summit and is the largest event in the series.
On Sunday, July 22, runners will test themselves during the La Sportiva Vail Half Marathon on a new course that will include pristine views on both single track and double track on Vail Mountain.
The fifth event, the Berry Picker trail run, will take place Sunday, Aug. 5 and take runners 3.2 miles up a tough single track from the base of Vail Mountain to the top at Eagle's Nest.
The La Sportiva 10k and 5k at 10,000 Feet will then be held on Sunday, Aug. 26 with runners riding the Eagle Bahn Gondola to the race start area. The entire race is above 9,000 feet with high points above 10,000 feet.
The final race of the series, the La Sportiva Evergold 11k and 5k on Sunday, Sept. 16, will begin at the Vail Golf Club and traverse Vail Mountain back to the golf club with an end-of-season brunch for participants and celebration at Happy Valley Grill. Individual race costs are $28 for preregistration or $38 on race-day for all races except the Summer Solstice.
Joining 2012 series title sponsor La Sportiva and presenting sponsor Columbia Sportswear are Vail Resorts, Beaver Creek Resort Company, FirstBank of Vail, Vail's Mountain Haus, Apex Dental, Central Rockies Mortgage, Big Delicious Catering, Smart Wool, Tiga Advertising, Howard Head Sports Medicine Centers, Steadman Clinic, Gatorade, KZYR, Road ID, Dusty Boot, Trek Light, Optic Nerve and Camelbak. Photos of the 2012 race series are available by going to http://www.mcclarrinonphotography.com.
Volunteers are needed at each race and will receive a T-shirt and other items for their help.
For more information or to become a race series sponsor, call the VRD Sports Department at 970-479-2280 or go to www.vailrec.com.
---

0 Comments on "VRD's La Sportiva Vail Mountain Trail Running Series continues Saturday at Beaver Creek"
Be the first to comment below.