Youth Foundation's First Tee golf program tees off in May
With Bubba Watson's dramatic Masters win still fresh in the minds of golfer's everywhere, Eagle County students are preparing to "grip it and rip it" this summer as registration for the Vail Valley Foundation's Youth Foundation First Tee golf program gets underway in May.
The Eagle County chapter of the international First Tee program, the First Tee gives students aged 6-18 an opportunity to receive instruction at some of the most prestigious and beautiful courses in the nation. Over the past six years, the program has impacted thousands of children throughout Eagle County.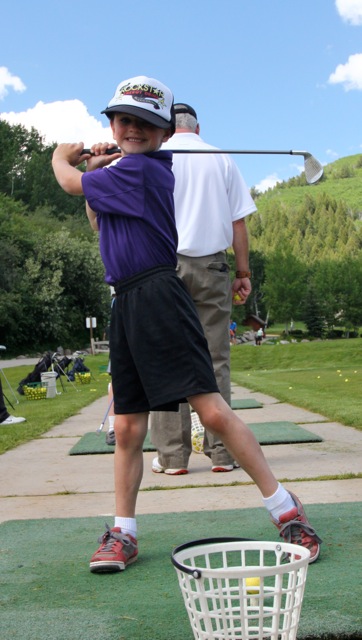 "The First Tee's programs are designed to seamlessly integrate life lessons and core values into each golf lesson," explained Susie Davis, Vice President of Education for the Vail Valley Foundation, "helping young people to develop both on and off the course. These skills will help empower students to assume roles as meaningful contributors to their families and community."
For the coming summer, First Tee camps will be conducted at Eagle Ranch, Eagle-Vail, Gypsum Creek and Vail Golf Courses. Individual registration must be done in person during designated registration nights at Gypsum Creek (May 14 & 23 from 5-7 p.m.), Eagle-Vail (May 16 & 21 from 5-7 p.m.) and Eagle Ranch (May 17 from 4:30-7:30 p.m.)
The program caters to all skill levels, including Par Level for beginners or those wanting to focus on basic golf skills, Birdie Level for intermediate players who want more on-course training and Player's League for more advanced golfers wishing to compete in junior tournaments throughout the summer.
"The game of golf is known for honesty and integrity," offered Ben Welsh, Director of Golf at the Eagle-Vail Golf Club, "but it also teaches wonderful self-confidence. Children who participate in the First Tee will gain skills that will help them in school, personal life and eventually, in their professional career."
For additional information on the First Tee of Eagle County, contact Maggie Jackson at the VVF's Youth Foundation at (970) 748-5992 or mjackson@vvf.org. The First Tee of Eagle County is a project of the Youth Foundation, the educational arm of the Vail Valley Foundation. For more information, visit www.theyouthfoundation.org.

---

2 Comments on "Youth Foundation's First Tee golf program tees off in May"