Should ski resorts focus more on late season than early season?
Aspen, A-Basin feed late-season skiing frenzy
Arapahoe Basin ski area to the east of Vail may stay open through the Fourth of July and definitely will offer snow riding right up until the first day of summer. And 9News reported Aspen may extend its season by opening back up for Memorial Day weekend. That's how much it just keeps snowing in the high country.
"It's very speculative. Everyone in town is talking about us reopening. We are still at least a week away from knowing if we can or will reopen," Aspen Skiing Company spokesman Jeff Hanle told 9News on Friday.
"It's possible that we could be open to the Fourth of July this year on the weekend," Arapahoe Basin spokeswoman Lee Hierholzer told the TV station after announcing A-Basin will stay open on weekends until at least June 19.
So where's Vail on all this late-season speculation? Nowhere to be found.
Vail often closes in April with its deepest snowpack of the ski season after often struggling to open in November with scant amounts of natural snowfall and a reliance on man-made snow that's blown from snow guns.
It's still snowing in Vail, and in fact, it's been pretty steadily snowing since closing day nearly three weeks ago on April 24. That day, Vail set a new record with 524 inches of natural snowfall between opening day in mid-November and closing day on Easter Sunday.
If the chairlifts were still running and the mountain operations crews were still checking the snow stake that records each additional inch of accumulation, Vail would easily have surpassed 600 inches of snow this season, or more than 50 feet of snow.
Loveland ski area, about an hour to the east on Interstate 70 and at a slightly higher elevation, just closed on Mother's Day.
But for Vail and its sister resort of Beaver Creek, it's a pretty simple equation. Once the golf courses turn green in the cities that send skiers our way – and destination guests start thinking more about surfing salt-water waves instead of snow drifts and cornices – it simply doesn't make much sense to staff the chairlifts, hotels and restaurants that make a ski resort hum.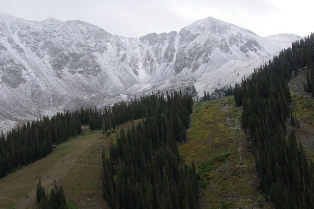 That kind of thinking, I'm afraid, makes ski towns victims of their own marketing machines. There is such a massive push to gear up for the early season, to be up and fully operational by Thanksgiving, to get bookings for the key holidays period between Christmas and New Year's, that resorts have lost sight of what really entices snow riders … and that's snow.
With Web cams and Twitter feeds and instant access to real-time weather information, snow riders these days are very discerning customers. They watch for storms and book late to guarantee optimum conditions.
Arapahoe Basin this week recorded 15 inches of new snow and a still has a 94-inch packed base. Hit that first thing in the morning before warmer spring temperatures can set up the snow, and you're talking about a fairly memorable powder day in mid-May. Doesn't that sound better than scratching down an icy, man-made strip of snow on just one run or two in mid-November?
During the first year of Vail's existence as a ski resort in 1962, construction crews struggled mightily in the spring with persistent snowfall well into what were supposed to be the prime construction months for the new ski area. Then there was no natural snow throughout November, forcing Vail to open for the first time to the public on Dec. 15, 1962. Sound familiar?
Mid-December is a more reasonable target date for opening day every season than mid-November. If the snow gods smile early and there's abundant early season snow, then by all means, open up for business in November.
But Thanksgiving skiing should just be a bonus, not a given. In fact, that usually seems to be when the heavens finally start to open up for the first time in the ski season after late Indian summer days more conducive to mountain biking earlier in the month.
Then there's a blissful couple of weeks in early December when the crowds are small, the snow is great, the Birds of Prey ski racing World Cup comes to town and all the happy snow riders gear up for the holiday onslaught.
I personally feel like that more gradual easing into the season would leave people's minds more open to extending things into May if the conditions warrant it, and that guests would become more accustomed to going with the snow gods' flow.
A version of this blog first appeared on www.inspirato.com.
---

43 Comments on "Should ski resorts focus more on late season than early season?"