'Occupiers' starting to target mountain retreats
It was a modest start, but a start nonetheless for disaffected worker bees representing the 99 percent toiling in the 1-percent playground of the rich and famous in Aspen on Monday.
Dueling articles by guys named "Chad" and "Chadwick" in the competing Aspen Daily News and Aspen Times newspapers, painted a picture of a small, fun-loving group of protesters trying to replicate the national Occupy Wall Street and regional Occupy Denver movements in Aspen's Wagner Park.
The protesters weren't camping overnight like their counterparts, and in fact said they would "need a private residence for that."
"While Aspen may be a playground to the 1 percent, it's the home and workplace for the rest of us," organizer Jeannie Perry said, according to the Daily News. And she may be onto something. Hit the rich where they live – or at least own a third or fourth McMansion.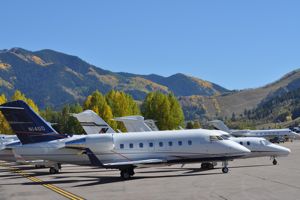 Frieda Wallison, chairwoman of the Pitkin County Republicans, told the Aspen Times: "I don't think that (protesters) should try to identify one organization or group of organizations such as Wall Street to blame," surprisingly not singling out President Barack Obama.
Organizer Perry recounted to the Daily News how one well-heeled woman on Monday wrote 'Tax private jet owners!!' on the protest board, probably wanting to stick it to her ex-husband. The Aspen protesters generally decried corporatism in a place that thrives on catering to CEOs, politicians from both sides of the aisle and Hollywood elite.
Vail, a place even more renowned for coddling modern robber barons – Alberto Vilar, Tyco's Dennis Kozlowski, Adelphia's John and Timothy Rigas, and WorldCom's Bernie Ebbers – even has its own Wall Street. So far no occupiers – just skiers waiting for the lifts to start running.
But even an article Tuesday in the Salt Lake Tribune reporting that the swank Utah ski resort of Deer Valley once again won top honors in a Ski Magazine reader survey saw some comments calling for protest in the nation's posh powder playgrounds.
"Ski's readers are a discriminating crowd. They can go anywhere they want, and they're not influenced by price as much as most," Ski Utah's Nathan Rafferty said.
Several comments on the article alluded to Deer Valley's elitism:
"This would be an excellent place for the 'Occupy' protesters to congregate!!!! You heard it here first folks - Occupy Deer Valley!!!!"
Another wrote: "I can go to Deer Valley if I want; I just don't want to subsidize a Deer Valley vacation through corporate welfare."

---

81 Comments on "'Occupiers' starting to target mountain retreats"