Advocates feel state left residents, workers in dark over potentially deadly gas-drilling emissions
The hot topic of hydrogen sulfide gas (H2S) emissions associated with natural gas drilling on Colorado's Western Slope is expected to get a full airing at the monthly meeting of the Colorado Oil and Gas Conservation Commission (COGCC) today and tomorrow in Broomfield.
The presence of H2S in significant quantities in and around Noble Energy wells in the Piceance Basin in 2009 came as a surprise to many gas patch residents and at least one COGCC board member, Richard Alward, who recently told the Glenwood Post Independent, "I have concerns about my own health, and the health of people who live and work in the Piceance."
A report delivered by the COGCC to Rifle residents earlier this month showed that of Noble's 353 active wells in the Parachute, Grand Valley and Rulison fields, a total of 312 were found to have some level of H2S gas. Of those, 37 had levels greater than 10 parts per million (PPM), and four had levels greater than 100 PPM. Exposure at higher levels can lead to breathing difficulties and even death.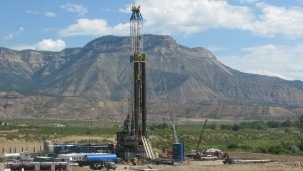 Silt Mesa resident Carl McWilliams, a contractor for Lonkar Services working at a Noble well, became ill in 2009. Although he was later fired by Lonkar, the company was fined by the U.S. Occupational Safety and Health Administration (OSHA) in the matter. Another Lonkar worker died of what was later determined to be a heart attack unrelated to H2S emissions, but McWilliams questioned that finding, and said he has now been blacklisted by the industry.
Alward expressed concern that he was not more fully informed by the COGCC staff about the seriousness of the situation, and community activists also say the state dropped the ball on H2S emissions and should have been much more forthcoming with information and taken the 2009 situation much more seriously.
"I'm furious about being misled about the H2S from industry and the COGCC until we had a whistleblower [McWilliams] come forward," Leslie Robinson of the Grand Valley Citizens Alliance told the Colorado Independent over the weekend. "Yeah, H2S is not uncommon in the gas patch, but the question is, how many people have died from it or have gotten sick because of this government and industry negligence?"
A Global Community Monitor air quality study in July found dangerous levels of various toxic emissions in and around homes and schools near natural gas drilling in Colorado and New Mexico.
David Neslin, director of the COGCC, told the Colorado Independent last week that the Noble H2S situation is still being looked into, and he added that the presentation to the Rifle community on the topic is now on the agency's website (pdf).
"We are continuing to investigate this matter," Neslin said. "Our initial priority obviously is to look at current circumstances and to ensure that there were not significant risks to public health, safety and welfare, and I think we satisfied ourselves that there are not."

---

295 Comments on "Advocates feel state left residents, workers in dark over potentially deadly gas-drilling emissions"