Report: Colorado River flows may drop by 10 to 20 percent by 2050 due to climate change
Lamborn blasted for effort to de-fund NREL
Hard to imagine in a year when snowpack up until recently has been more than 200 percent of normal in the Colorado River Basin and its major tributaries on the state's Western Slope, but the long-term prognosis for the river that provides water to more than 30 million people in the Desert Southwest is not good.
A new interim report released this week by the federal government, Colorado and six other states along the river suggests that "by mid-century the average yield of the Colorado River could be reduced by 10-20 percent due to climate change. Meanwhile, the Basin States include some of the fastest growing urban and industrial areas in the United States. Increasing demands coupled with decreasing supplies will exacerbate imbalances throughout the Basin in the future."
Sobering stats from non-hysterical sources like the U.S. Bureau of Reclamation and the major stakeholders along the river. The full report will be released in digestible chunks over the next year or so and is aimed at coming up with some
collaborative approaches
to solving inevitable conflicts among the various user groups. For instance, energy production versus agriculture versus residential development versus outdoor recreation versus wildlife and riparian habitat.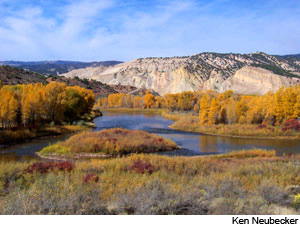 Some will no doubt say such a report is a waste of federal and state funding and that scenarios suggesting global climate change will be a factor are politically motivated. But the climate change model is one of just four possible scenarios contemplated in the report, and an ongoing drought that has depleted Lake Powell and other major reservoirs along the Colorado is factually impossible to deny.
"We are fortunate here in that the State of Colorado has recognized the importance of understanding the future water supply and demand challenges, and we have made great steps forward in identifying issues and strategies," Jennifer Gimbel, director of the Colorado Water Conservation Board (CWCB), said in a recent release.
"Studies such as the Statewide Water Supply Initiative (SWSI 2010) and the efforts of the CWCB and the Interbasin Compact Committee (IBCC) help us to explore possible solutions to meet these future challenges. The Basin Study is a model of states working together on these issues in a more holistic and comprehensive manner."
And it is virtually impossible to talk about climate change and energy production without talking about water supplies. The
debate over oil shale production
, for instance, almost always begins and ends with water. How much is required to produce oil from oil shale? Where will that water come from? And is it worth it when considering the carbon dioxide produced when developing and utilizing that resource compared to other forms of energy such as natural gas, wind and solar.
Colorado voters, to some degree, seem to be increasingly capable of making the connection between climate change and water supplies, becoming one of the first states in the nation to approve a renewable energy standard in 2004. Perhaps that stems from living in a high alpine desert where water, or the lack thereof, is always at the forefront of major public policy debates.
Even conservative columnist Vince Carroll
cites that voter awareness
in a column in today's Denver Post questioning U.S. Rep. Doug Lamborn, R-Colo., for joining eight other members of the House in an attempt to defund the National Renewable Energy Laboratory in Golden.
"Colorado voters approved this state's first renewable-energy mandate in 2004, and the expanded standard is probably as popular as ever," Carroll writes. "Yet electricity ratepayers have to subsidize green technologies. Wouldn't it be nice if that weren't necessary — if renewables could compete in the marketplace without the mandates, subsidies and cost-shifting gimmickry that now prop them up? From both a political and policy standpoint, pulling the plug on research is an atrocious idea."
Of course, some on the left have suggested it would be nice if century-old fossil fuel production companies enjoying record profits as gas prices have spiked this spring could also
do without tax breaks and subsidies
. But the powerful oil and gas lobby successfully squelched that line of debate in the GOP-controlled House.
Which brings the subject, inevitably, back around to water. ExxonMobil and Shell, both heavily involved in oil shale research and development on Colorado's Western Slope, are two of the
biggest holders of water rights
in the troubled Colorado River Basin. Ultimately, 'Big Oil" will have a lot to say about how the dwindling resource is consumed in the increasingly populous Desert Southwest.
---

56 Comments on "Report: Colorado River flows may drop by 10 to 20 percent by 2050 due to climate change"