Vail's Vonn loses ground to Riesch in overall World Cup hunt, finishing 6th in super combined
ARE, Sweden – Vail's Lindsey Vonn lost more ground to her friend and rival Maria Riesch of Germany today as the two battle for the overall World Cup title in the final month of the season. Vonn won the super G leg of a World Cup super combined race but faltered in the slalom portion to hand Riesch the victory and 100 more World Cup points.
Vonn picked up 40 points by finishing sixth, but Riesch increased her lead by 60 points and now leads Vonn, the three-time defending overall champion, by 216 points.
"It's going to be a battle for the overall title until the last race of season," Vonn said. "I've still got a lot of fighting to do."
Slovenian Tina Maze and Austrian Elisabeth Goergl, fresh off gold medals at the World Championships in Garmisch, finished 2-3 in today's super-combined. American Julia Mancuso, of Squaw Valley, Calif., was eighth.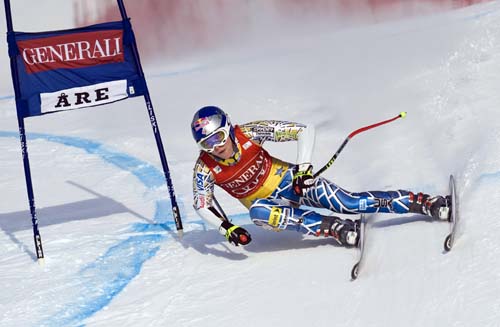 U.S. Ski Team coach Alex Hoedlmoser said Vonn isn't ready to concede the overall crown. Four straight would be an American record, and Vonn and Phil Mahre currently share the record of three straight overall titles by an American.
"It's been an ongoing battle throughout the whole season," Hoedlmoser said. "Maria is skiing really well in all disciplines and has a lot of confidence. She's definitely a challenge and it's going to be tough to be beat her because she's very consistent this year. Lindsey has to chase her now. But there still are a lot of points out there to grab. It's over when it's over."
Vonn said she's feeling fully recovered from a training accident earlier this month that caused her to pull out of the World Championships after winning a silver in downhill.
"The super G was solid, aggressive and just like I know I can ski," Vonn said. "I was driving my skis the whole way down and definitely feeling back to my normal self. My super G was really encouraging, but I'm pretty frustrated with my slalom. I've been training really well in slalom, but haven't been able to put it together in a race. I had a hard time with the groove and lost my balance on a rut about 10 gates in and never really got my rhythm back."
Vonn spent several days in a wellness hotel after leaving the World Championships. Then she did some slalom training before flying to Are on Red Bull's private jet. A World Cup downhill is on the schedule for Saturday in Are, site of the 2007 World Championships.
OFFICIAL RESULTS
2011 Audi FIS Alpine World Cup
Are, Sweden – Feb. 25, 2011
Super Combined
1. Maria Riesch, Germany, 1:59.60
2. Tina Maze, Slovenia, 2:00.00
3. Elisabeth Goergl, Austria, 2:00.26
-
6. Lindsey Vonn, Vail, CO, 2:00.76
8. Julia Mancuso, Squaw Valley, CA, 2:01.14
26. Leanne Smith, Conway, NH, 2:04.28
32. Stacey Cook, Mammoth Mountain, CA, 2:04.53
34. Laurenne Ross, Klamath Falls, ID, 2:06.27
---

5 Comments on "Vail's Vonn loses ground to Riesch in overall World Cup hunt, finishing 6th in super combined"