Debate over roadless rule, off-road vehicles rages as Colorado considers how best to manage public lands
Few things get Coloradans as riled up as access to our public lands. The debate tends to rage on numerous fronts, but by far the most contentious battles are fought over off-road vehicle access: where, when, how and when is enough enough?
The heated debate over Colorado's roadless rule and a more restrictive national rule has raged in various courts for more than a decade, with
conservationists saying the Colorado rule doesn't go far enough in protecting untrammeled public lands
and other groups arguing it needs to provide more access for recreation, logging and other extractive industries.
Officials with the Pike-San Isabel National Forest in southern-central Colorado touched off a powder keg of controversy recently when they issued a
Motor Vehicle Use Map (MVUM
) that conservationists say includes more than 500 miles of illegal roads and tracks – or "rogue" trails – formed by all-terrain vehicles (ATVs) or motorcycles over the years.
The groups filed suit last week in U.S. District Court alleging the U.S. Forest Service failed to properly vet the roads for environmental impacts, including their potential effect on endangered species and other recreational activities such as hiking and biking.
Represented by the environmental law firm Earthjustice, the groups include the Quiet Use Coalition, Great Old Broads for Wilderness, Center for Native Ecosystems, Wildlands CPR and The Wilderness Society. The groups also say the roads were added without any public input.
Critics claim that the more than 800 trails, roads and tracks will only add to a USFS maintenance and upgrade backlog on the existing network in the Pike-San Isabel National Forest, which is in the top 10 most popular national forests in the United States. The Forest Service is currently $16 million behind in just maintaining existing roads, the groups claim.
"I'm really upset because this forest means so much to me and my family," Quiet Use Coalition President Alan Heald said in a release "Everyone knows that this forest's management and enforcement of [off-road vehicles] has been lackadaisical for decades. But now, instead of utilizing the new rules to rein it in, they are attempting to officially lock in the decades of illegal use without a public and environmental process."
Heald is an avid hiker who says he has dealt with years of off-road vehicle trespass problems around his family's mining claim in the Pike-San Isabel.
Off-road vehicle groups in other parts of the state, including the Vail area, have battled with lower-impact forest users over
inclusion of new public lands in wilderness proposals in the White River National Forest
, where the Hidden Gems proposal sparked heated debate in recent years.
A watered down version of that plan was proposed by U.S. Rep. Jared Polis, D-Boulder, in the last session of Congress.
Its fate remains uncertain in the current Republican-controlled House
. Polis represents the Vail Valley in Congress.
And for years now Colorado has been working through a laborious process to
craft its own rules for managing federal public lands designated as "roadless" areas
. The state is seeking certain exemptions for ski area expansion and extractive industries such as gas drilling and logging.
A prominent conservation group Tuesday simultaneously praised a U.S. district court ruling upholding Idaho's roadless rule and looked ahead to anticipated revisions of Colorado's rule, which it says falls short in protecting millions of acres of public lands from road-building projects.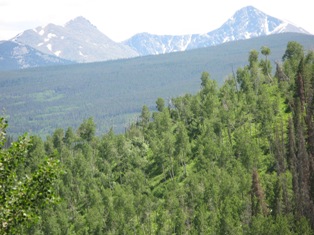 The Theodore Roosevelt Conservation Partnership (TRCP), a coalition of sportsmen's groups, lauded a U.S. 9th District Court decision upholding the Idaho roadless rule, which governs the administration of more than 9.3 million acres of roadless public lands in that state.
Roadless areas in 37 states other than Idaho — including Colorado — are managed under the 2001 Roadless Area Conservation Rule, a forest management regulation that was passed in the waning days of the Clinton administration in order to limit industrial road building and timber operations on 58.5 million acres of public lands.
The Bush administration quickly threw out the Clinton rule out and allowed states to petition the federal government for their own rules. Only Idaho and Colorado went that route. The 10th Circuit Court of Appeals, which includes Colorado, is considering a lawsuit challenging the 2001 rule, and a decision is expected early this year.
Conservation groups have been critical of the Colorado rule, which covers more than 4 million acres of public lands, saying it provides far too many exceptions for logging, ski-area expansion and some extractive industries such as oil and gas drilling and coal mining. The TRCP has been working to improve the Colorado rule.
"The Colorado roadless rule must be as strong as or stronger than the national rule to uphold Colorado's great backcountry traditions," said Joel Webster, director of the TRCP Center for Western Lands. "We hope that a soon-to-be-released revision of the rule will be significantly improved from previous drafts, and we will continue to help rectify any remaining deficiencies to ensure a top-quality management document for federal backcountry lands located in the state."
Webster added the 9th Circuit Court made the right call in Idaho: "Overall, the Idaho rule is as strong as the [2001] national roadless rule, which many sportsmen maintain has established a minimum standard for safeguarding these valuable public lands."
---

76 Comments on "Debate over roadless rule, off-road vehicles rages as Colorado considers how best to manage public lands"