Vail's Vonn wins 6th World Cup race this season, 38th of her career
Vail's Lindsey Vonn today kept closing in on both World Cup overall leader Maria Riesch and the remarkable 40-win threshold, picking up her 38th career victory by claiming a super-G in Cortina d'Ampezzo, Italy.

Vonn, who hasn't finished lower than second in a speed race (downhill or super-G) all season, earned her sixth victory of the season and second in a super G with a smooth run down the 1,745-meter Olympia Delle Tofane course.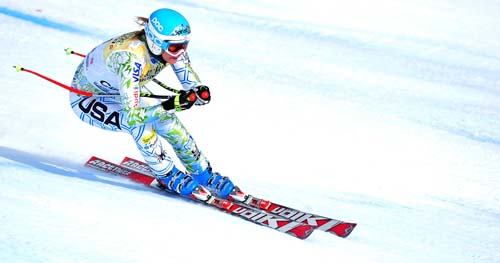 The 20th racer out of the start, Vonn led at every split and crossed the finish line with a time of one minute, 11.66 seconds to beat second-place finisher Anja Paerson of Sweden by 0.43 seconds and climb 71 points closer to overall leader Riesch of Germany (ninth today), who still owns a 1,052 to 927 advantage.
"I've been making a lot of mistakes in the last few races so today I just tried to have a clean and solid run and I'm really happy with it," said Vonn, who has become a high-speed recovery expert this season. "This gives me a lot of confidence for the next two races this weekend."
Paerson secured her 93rd career World Cup podium and eighth in Cortina ahead of Austrian Anna Fenninger, who was only seven hundredths of a second behind Paerson in third place today. Vonn is fifth on the career victory list, just three behind Paerson in fourth with 41 career wins. None of the top three – Annemarie Moser-Proll (62), Vreni Schneider (55) and Renate Gotschl (46) – are still active.
Vonn, a Ski and Snowboard Club Vail product who grew up in Minnesota, is chasing her fourth straight overall World Cup title.
"At this point every downhill and super-G race are really important for the overall World Cup," Vonn said. "My goal is to try to ski the best I can in every speed race and just try to use every opportunity. The journalist on the World Cup keep asking me do I feel the pressure -- honestly I feel a little pressure because I know I have to ski well in every speed race in order to catch up to Maria. But at the same time if I ski nervous, I'm never going to win anyways.
"I'm just out there skiing the best I can, trying to attack the course. Usually when I focus on skiing the results follow so that's what I am going to try to keep doing."
Vonn's winning time today bumped her teammate Julia Mancuso off the podium by 0.13 seconds into fourth place with a time of 1:12.26. It was Mancuso's fourth top-five finish of the season.
Swiss skier Lara Gut, winner of the last super G in Zauchensee, was 0.62 seconds off the winning pace today in fifth place while her teammate Fabienne Suter tied for sixth with Austrian Olympic super G champion Andrea Fischbacher.
Gone were the snow-deteriorating high temperatures that canceled last weekend's GS and slalom races in Maribor, Slovenia. The cloud cover that dimmed both this week's downhill training days broke today and the famous Cortina sun was out for race day as the Italian Alps were shimmering in all their glory while temperatures stayed in the high teens.
With her fourth win in Cortina, Vonn now trails Riesch in the overall race by 125 points after a string of four consecutive slalom DNFs saw her slip 196 points behind her good friend. Riesch is fighting for her first overall globe after finishing as runner-up the last two seasons.
"I would like to catch [Riesch] as soon as possible but it's not always that easy," said Vonn. "I just do my best every race that I have. We have two big speed weekends now so I'm positive and hopefully I can get some good races and good points."
The U.S. got even more good news from their younger racers as Leanne Smith (in bib No. 35) notched her career high in eighth place. She recorded her previous high on the same slope a year ago with a 15th-place result in the downhill, a feat she repeated this season in Lake Louise.
Teammates Laurenne Ross (bib 34) and Stacey Cook (bib 51) also overcame late starts to hit the points in 19th and 21st, respectively. Chelsea Marshall finished 39th. Today's results mark the first time the U.S. has ever had three top-10 finishers at Cortina.
Riesch struggled to maintain speed in the bottom of the course to finish ninth, collecting her 16th top-10 result of the season.
Canadian Britt Janyk led her team in 22nd, 1.54 seconds off the pace.
Women's World Cup racing continues in Cortina tomorrow with a downhill. A second super-G is scheduled for Sunday, Jan. 23.
This report by www.skiracing.com

OFFICIAL RESULTS
Audi FIS Alpine World Cup
Cortina d'Ampezzo, Italy – Jan. 21, 2011
Super-G
1. Lindsey Vonn, Vail, CO, 1:11.66
2. Anja Paerson, Sweden, 1:12.09
3. Anna Fenninger, Austria, 1:12.13
-
4. Julia Mancuso, Squaw Valley, CA, 1:12.26
8. Leanne Smith, Conway, NH, 1:12.51
19. Laurenne Ross, Klamath Falls, OR, 1:13.15
21. Stacey Cook, Mammoth Mountain, CA, 1:13.18
-
39. Chelsea Marshall, Pittsfield, VT, 1:14.31
For complete results: www.fis-ski.com

---

10 Comments on "Vail's Vonn wins 6th World Cup race this season, 38th of her career"