Birds of Prey super G course set knocks off top Americans; Vonn 2nd again at Lake Louise
BEAVER CREEK -- It's hard to know who was more disappointed today on Beaver Creek's daunting Birds of Prey course – the American speed-skiing squad (three of whom skied off course) – or the capacity crowd jacked up for some results after the first Birds downhill weather cancellation ever on Friday.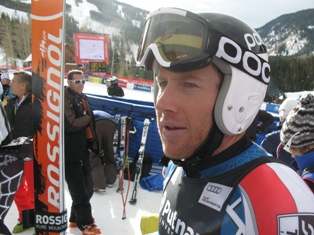 Austrian Georg Streitberger today took advantage of a tricky super G course set by Austrian coach Andreas Evers to win his second career World Cup race in 1 minute, 17.18 seconds. Frenchman Adrien Theaux was second (1:17.29), and Switzerland's Didier Cuche collected his sixth career Beaver Creek podium, finishing third in 1:17.31.
Bode Miller, a three-time winner on the Birds of Prey, set the tone for the Americans, starting 15th and skiing very aggressively into the Screech Owl section of the course, about halfway down. Miller went way wide and missed a gate that would victimize the next several Americans: Marco Sullivan, Andrew Weibrecht and Ted Ligety.
"It's an area where you kind of have to let off the throttle a little bit and get more direction than we anticipated, and the coaches were telling us about it at the top but we were all going at it with a lot of intensity – it's our home race – and maybe just not giving it enough respect," Sullivan said.
"You've got to really swing that turn wide and obviously all of us went too straight," he added, speculating Friday's downhill cancellation may have had the Americans charging a little too hard. "That's part of it; that's a lot of it for sure."

Ligety, a 2006 Olympic gold medalist in combined, was bummed by his DNF.

"In inspection, we just didn't anticipate how big of a turn it was," Ligety said. "It's a bummer, but that's super G, you have to be in the fine line of going out and making it clean and we just were on the other side of that line. A lot of guys think this is the coolest super G hill on the World Cup and we're all really excited to have a good day, so this is definitely a bummer."

Travis Ganong, starting 41st, was the first American to actually make it through the Screech Owl section, and for a while it looked like he might crack into the top 30 and earn his first World Cup points. But he was bumped to 31st.
Steve Nyman actually helped bump his countryman, starting 57th and jumping all the way up to finish 25th. That elicited a huge cheer from the largely disappointed crowd.

"It's pretty disappointing actually to have all those guys go out," Nyman said. "But I'm happy. I created another spot for the ski team [his result gives the U.S. 10 starting spots in super G]. I haven't scored points in the super G event for over a year now so I'm pretty psyched to get back in there. To go from 57 to 25, I'm stoked."

U.S. men's head coach Sasha Rearick said riding the fine line between aggression and tactical skiing was key today.

"This hill is fast with a lot of terrain and you have to attack," added Rearick. "You have to ski this hill very aggressively, but at the same time you have to ski it very smart. Some of the guys executed and others didn't. But I'm really stoked about Steven. For him to come down in flat light with rough conditions and come down and score points is a huge success."

That was the lone highlight for the partisan crowd.

Sullivan had his own green-clad cheering section that makes it out for the Beaver Creek races every season – the only men's World Cup in the United States each season. While an entire Birds of Prey World Cup was once cancelled due to a lack of snow, Friday marked the first time weather has scrapped a downhill here. High winds caused International Ski Federation officials to call the race for safety reasons.
"The first time in my career it's been cancelled," Sullivan said. "It's our only downhill on home soil, so it sucks. They'll probably reschedule the downhill for another stop on the tour [in Europe] – whoever can accommodate it."
Asked if there's still any hope for the Americans this season on Birds of Prey, Sullivan said, "I'm done. Most of the speed guys are done, so hopefully the GS guys can step up and get some redemption."
The first run of giant slalom is scheduled for Sunday at 9:45 a.m., with the second run at 12:45 p.m. Defending World Cup giant slalom champion Ligety will be among the favorites. He has had podium success at Birds of Prey, but has never won a GS here. Miller has won one GS at Beaver Creek, and Ski and Snowboard Club Vail's Will Gregorak is also set to race in front of a home-town crowd.

"Ted Ligety and Bode skied the top very aggressive – fantasic skiing," Rearick of today's super G. "I'm looking forward to seeing those two guy put it down tomorrow in the GS."

Meanwhile, at Lake Louise, Alberta, Canada, Ski and Snowboard Club Vail product Lindsey Vonn was edged by her friend and chief rival Maria Reisch of Germany again today – mirroring the exact same result from Friday.
Vonn pulled off an amazing save midway down the course and briefly held the lead until Reisch -- the World Cup frontrunner looking to end Vonn's three-season reign – skied down masterfully and bumped Vonn into second by one-tenth of a second.
Vonn has seven downhill wins at Lake Louise, including a string of five straight that Reisch ended in Friday's downhill. Vonn, the all-time winningest American ski racer, has yet to collect a victory so far this season.


OFFICIAL RESULTS
Audi FIS Alpine World Cup
Beaver Creek, CO
December 4, 2010
Super G

1. Georg Streitberger, Austria, 1:17.18
2. Adrien Theaux, France, 1:17.29
3. Didier Cuche, Switzerland, 1:17.31
4. Christof Innerhofer, Italy, 1:17.38
5. Mario Scheiber, Austria, 1:17.41
-
25. Steven Nyman, Sundance, UT, 1:18.88
-
31. Travis Ganong, Squaw Valley, CA), 1:19.31
40. Erik Fisher, Middleton, ID, 1:20.00
49. Tommy Ford, Bend, OR, 1:23.82
-
DNF: Bode Miller (Franconia, NH), Marco Sullivan (Squaw Valley, CA), Andrew Weibrecht (Lake Placid, NY), Ted Ligety (Park City, UT), Chris Frank (Wyndham, NY)
---

226 Comments on "Birds of Prey super G course set knocks off top Americans; Vonn 2nd again at Lake Louise"