Vonn poised to sweep Lake Louise again
If Vail's Lindsey Vonn completes a sweep of this weekend's races at Lake Louise, Alberta – a distinct possibility after she dominated the field by nearly two seconds in Friday's downhill – she will have answered all of her doubters from a shaky early-season start.
After sparking heated debate by seeking permission to race against men at Lake Louise instead of against women at Aspen – a concept rejected by the International Ski Federation (FIS) -- Vonn wasn't able to train much in November because of a mysterious and debilitating stomach ailment that landed her in the Vail Valley Medical Center for a couple nights last month.
Still somewhat shaky, Vonn was 21st in a giant slalom last weekend in Aspen and skipped the slalom to head to her favorite hunting ground: Lake Louise.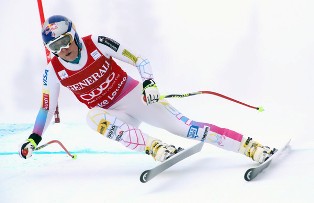 She crushed the first training run this week, finished third in the second run while testing a new setup, and skipped the final training run when her stomach bug bit again. Then on Friday she put the hammer down and bested teammate Stacey Cook by 1.73 seconds and the rest of the field by even more.
"I felt like I had to win today," Vonn said Friday. "When you say you want to race with the men, you can't really not win the women's races. I was trying to prove a point today, mostly to myself, but also to everyone else who doesn't think that I could compete with the fastest guys."
The win was Vonn's 54th career victory -- one behind retired Swiss racer Vreni's Schneider's 55 career wins (second only to Austria's Annemarie Moeser-Proll's 62). A win for Vonn in Saturday's downhill would tie Schneider, and a victory in Sunday's super G would put Vonn all alone in the second spot.
Vonn swept the three races at Lake Louise last season, and now has 12 career wins there (10 in downhill and two in super G).
"This gives me confidence," Vonn said after her win on Friday. "The only thing I'm concerned about right now is my energy level. I'm just trying to make sure that I can compete throughout the entire weekend. After missing the training run [Thursday] I was a little unsure of myself, but once I got in the starting gate, that all went away."
A sweep would also put Vonn right back in the hunt to defend her fourth overall World Cup title from last season. The Vail racer now has 110 points this season. Slovenia's Tina Maze leads the chase with 310, but victories are worth 100 points each, and Vonn appears on track to grab two more this weekend.
On the men's side
, Italy's Christof Innerhofer edged Norway's Aksel Lund Svindal for the downhill title on Beaver Creek's Birds of Prey course on Friday. The top American was Travis Ganong in 16th.
Racing action, free and open to the public, continues on Saturday and Sunday with a super G and a giant slalom at Beaver Creek. For full scheduling details, go to
www.bcworldcup.com
.
---

59 Comments on "Vonn poised to sweep Lake Louise again"