Romney in Pueblo touts more domestic drilling, draws flak for wind-power stance
Mitt Romney campaigned in Pueblo Monday, telling about 3,000 supporters that, as president, he'd create jobs in the state by developing U.S. energy resources. Yet, even before he touched down at the city airport where the event was held, Romney was under fire by wind-power advocates for leading opposition to the federal tax credit extension tied to the loss announced last week of roughly 100 jobs at a Pueblo wind tower factory.
In a statement sent out Monday morning, Pete Maysmith, executive director at Colorado Conservation Voters, characterized the Romney visit as the "height of irony."
"If [Romney] was serious about job creation, he would quit catering to his big oil supporters and join the bipartisan support in Colorado for clean renewable energy jobs and extension of the wind production tax credit."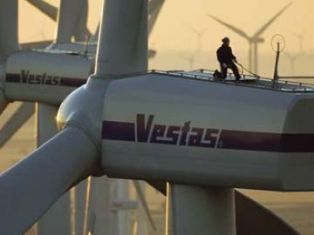 Romney's remarks in Pueblo clearly weren't designed to allay those kinds of concerns about the priorities of his energy plan.
"We will drill for more oil on government lands, open up Alaska for development and bring that [Keystone] pipeline down from Canada," he told the crowd.
In the past, Romney has said he supports wind power generally but that he opposes wind production tax breaks for unfairly propping up the industry in the energy market.
President Obama has championed the tax credits, as have eight of nine members of Colorado's congressional delegation, including three of the state's four House Republicans. The members have written letters and spoken at length to the press about the need to renew the credits. In the Senate, Mark Udall has launched an extended floor show, arguing in nearly 20 separate speeches that energy independence and wind-power manufacturing jobs are too valuable to lose to ideological bickering and partisan standoffs.
"We need to [act] before more companies are forced to respond to the uncertainty over the expiring tax credit," he said in a release last week responding to news that Siemens Energy was planning to lay off hundreds of wind industry workers in Kansas, Iowa and Florida. "With every job lost and each round of layoffs, we get one step further away from having a healthy, robust American manufacturing sector. I am not going to give up... Our pursuit of economic growth and an all-of-the-above energy strategy demands nothing less."
A widely cited report published in April by the American Wind Energy Association estimated that the industry was responsible for between 4,000 and 5,000 jobs in Colorado and that failure to extend the tax credit would cost more than 35,000 jobs nationwide.
The Danish wind turbine company Vestas announced the layoffs at its Pueblo plant a week ago. The company employs roughly 1,600 Coloradans. Vestas CEO Ditlev Engel said the domestic market for wind turbines is likely to fall by 80 percent in 2013 if Congress allows the tax credits to expire.
The New York Times reported in August that the longstanding bipartisan agreement to extend the credits, which were first passed in the 1990s by George H.W. Bush, had gotten tangled up in presidential politics when "Senate Republicans removed [the tax credits] from a usually routine package of business tax breaks to show their loyalty to their presumptive presidential nominee, Mitt Romney."
In an unaired portion of an interview with 60 Minutes posted online today, Pres. Obama lamented Romney's opposition to the tax credits. He said the renewable energy sector is producing valuable jobs in the United States now and will prove a major growth industry of the future.
---

0 Comments on "Romney in Pueblo touts more domestic drilling, draws flak for wind-power stance"
Be the first to comment below.