Romney failing to woo Colorado's independent voters, analysis shows
Poll finds Obama surging among unaffiliated Coloradans even before 47-percent controversy
Republican Party donors and strategists alarmed by the trajectory of the embattled Romney presidential campaign won't find much to boost their spirits in swing-state Colorado. On the contrary, what's happening on the ground here suggests the party's nominee is failing to execute the strategy he said he "inelegantly" outlined in the hidden-camera videotape that has dominated the politics news cycle for the last two days.
In the video, after writing off the 47 percent of the U.S. population that doesn't pay income tax, Romney said that what he "[has] to do" is win over independent voters.
"I have to convince the 5 to 10 percent in the center that are independents, that are thoughtful, that look at voting one way or the other depending upon, in some cases emotion, whether they like the guy or not," he said.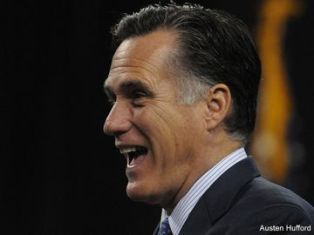 As his campaign surely knows, the Colorado electorate is divided roughly equally among Republican, Democrat and unaffiliated voters. It's a gold mine of "thoughtful" "independent" voters. In fact, September registration numbers available at the secretary of state's website list unaffiliated voter totals ahead of those for Republicans and Democrats:
Unaffiliated: 1,224,288
Republican: 1,129,955
Democrat: 1,102,167
Yet the Romney campaign has only 13 offices open on the ground in the state. The Obama campaign has opened 55 offices -- and the President's campaign has been working the state almost from the time he defeated John McCain here in 2008.
Keating Research and Onsight Public Affairs for Project New America survey results released last week but based on polling done in August, before the shocks suffered by the Romney campaign this week, suggest the GOP nominee was already struggling to win the state's key unaffiliated voter bloc.
"Obama's five-point lead [in Colorado] is due largely to growing support among the key demographic of unaffiliated voters," wrote Onsight in its Sept 13 release. "A poll conducted August 21-22 showed Obama with a four-point lead over Romney, 48 percent to 44 percent. Since that poll, Obama has added nine points to his advantage among unaffiliated voters."
The President has visited the state eight times this year, drawing overflow crowds on college campuses in Boulder, Colorado Springs and Fort Collins. Last week, Obama rallied campaign staff and helped recruit volunteers among a crowd of more than 8,000 people packed into Lions Park in battleground Jefferson County.
Romney, who plans to visit the state Sunday and Monday, has made roughly half the number of visits here and his visits have not gone well by comparison. Last week he planned to visit Pueblo, a Democratic Party stronghold and home to a great number of Latino voters, but a small-plane crash derailed his visit. It was his first planned visit to Colorado in more than a month. Obama also canceled a visit to Pueblo that weekend.
On a visit to Colorado Springs in February, Romney made news for attacking the Obama stimulus program at a metal factory that had received $2.3 million in stimulus funds. At a May visit to tiny Craig, Colorado, far from the Front Range counties that will decide the election, Romney similarly made news for deriding the renewable energy industry and emissions regulations he said were hurting Colorado workers. But, as reporters noted at the time, the state's renewable energy industry under Obama has employed thousands of Coloradans and clean air regulations have not prevented coal town Craig from weathering the recession relatively well.
Romney lost the primary season caucuses in Colorado to Rick Santorum. Eight of the state's 36 GOP delegates at the convention last month refused to support his nomination. Some of the delegates said they wouldn't vote for him in November.
The first presidential debate will take place at the University of Denver next Wednesday.
---

0 Comments on "Romney failing to woo Colorado's independent voters, analysis shows"
Be the first to comment below.