Public policies must change dramatically in aftermath of wildfires, experts warn
Aspen symposium conclude climate change is stoking blazes around the globe
ASPEN -- Public policy and political will must shift as dramatically as the winds that have whipped Colorado's record wildfires, experts say, or the state's residents will continue to pay a higher and higher price for forests that are dying due to global climate change.
"We know now that it's not just dry conditions that drive fires," said Craig Allen, a research ecologist for the U.S. Geological Survey. "There's enough data that show fires are very clearly linked to warming – warming that's been going on throughout this region for years. Fire season's about two months longer than it used to be in the West in the last 25 years."
That was the startling conclusion and nearly unanimous opinion of politicians, federal officials, scientists and advocates gathered at the "Forests at Risk" symposium in Aspen earlier this week – a confab hosted by the nonpartisan
Aspen Center for Environmental
Studies.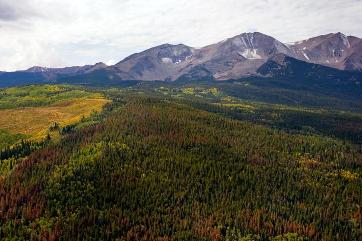 The meetings came as Denver set an all-time temperature record of 105 degrees, the devastating Waldo Canyon Fire was blowing up west of Colorado Springs, the record-breaking High Park Fire continued to rage near Fort Collins, and Colorado politicians are imploring the federal government for more help.
"We are seeing larger and more intense fires throughout the country," said Undersecretary of Agriculture Harris Sherman, who oversees the U.S. Forest Service. "Since 2000, 10 states, mainly in the West, have experienced record fires. These fires have enormous costs. Our fire suppression budget can exceed a billion dollars. Our fire preparedness budget can exceed a billion dollars."
Sherman, speaking via video from a critical wildfire command center in Denver, noted that national forests provide water for 66 million Americans, recreation for 173 million Americans and sequester 11 percent of the carbon emitted in the United States every year.
"People think these resources are free until they're gone, and then they realize how important they were and how costly it will be to replace," Sherman added.
Dozens of wildfires that have raged across Colorado this drought-stricken spring and summer have taken five lives, burned down hundreds of homes and severely degraded Front Range water supplies. Just the state's share of fighting the wildfires has already reached nearly $40 million.
"If [climate change] is a reality, and it is," said Jim Lochhead, CEO of Denver Water, there needs to be far more political will and overall funding of forest treatment and restoration. Lochhead said Denver Water spent a combined $26 million on dredging, maintenance and cleanup after just two fires: Buffalo Creek in 1996 and Hayman in 2002.
Now the water utility is partnering with the U.S. Forest Service to spend another $33 million treating 38,000 acres of bark-beetle-ravaged forests in Front Range watersheds. But he estimates it would cost $4 billion to treat the entire 2 million acres of dead and dying trees in Denver Water's overall watershed.
"The recent North Fork Fire started on our property under a controlled burn that was undertaken by the Colorado State Forest Service.," Lochhead acknowledged, referring to a wildfire in Jefferson County this spring that claimed the lives of three homeowners.
"We believe that continued proactive management and the continued judicious use of controlled burns is valuable in terms of managing watersheds," Lochhead added. "There can obviously be some changes in the protocols -- hopefully we can learn some lessons from the tragedy of the North Fork Fire -- but we believe active management needs to continue to occur."
Sherman talked about an accelerated restoration strategy, especially in what's referred to as the wildland urban interface (WUI), where national forests abut residential communities. But he also discussed thinning forests and reducing fuels near critical water and power infrastructure and recreation areas. And he added that the size and
scope of restoration much grow exponentially.
"We need to move forward with landscape-scale restoration," Sherman said. "Too often we have conservation projects where we're working on a hundred acres here or a hundred acres there. We need to move into an entirely new and expanded scope of work."
Sherman then referenced an ambitious million-acre restoration project in northern Arizona. That kind of thinning and controlled burning, besides being costly, clearly made some advocates in Aspen uncomfortable. And without the ongoing wildfires as a backdrop, it would have been politically impossible to even consider such aggressive forest management.
But huge stands of uniformly aging trees untouched by fire for decades (because of costly federal and state fire suppression policies) are fueling increasingly intense fires that leave landscapes so devastated that forests aren't regenerating naturally, according to the USGS's Allen, who has seen large swaths of his home state of New Mexico turned into barren grasslands.
"There is enough of a flat earth society that still believes there is no climate change when we are living it every day," said Gail Schwartz, an Aspen-area Democratic state senator. "It's very, very difficult when 80 percent of our population is on the Front Range and they are not willing to understand the relationship between water and our forests."
Schwartz praised the efforts of Lockhead and Denver Water in educating Front Range consumers about the correlation between drought, fire and dwindling water supplies. Reservoirs become choked with fire debris and massive runoff and soil erosion from fire-scarred hillsides.
"[The Waldo Canyon Fire] unfortunately will communicate to the vast majority of Colorado that all of us are at risk if we don't do something about our forest areas and we don't do anything to manage those fuels and protect the public long-term," Schwartz added.
Others questioned the wisdom of continuing to build homes in areas susceptible to high winds and intense fires.
"If we accept that the world is changing – this whole new normal [of global warming] – why don't we accept that we have to change?" said Jack Sahl, director of environment and resource sustainability for the Southern California Edison power utility. "I think a lot of our urban and rural planning has just been goofy, and we have to find a way to rethink that.
"How many times do we have to have a flood, or how many times do you have to have a fire burn out a community or how many times do you have to have a hurricane take out a community before you say, 'There has to be a better way?'"
Also speaking via video, Democratic U.S. Sen. Mark Udall underscored the timeliness of the Aspen symposium and the critical nature of addressing overall forest health in a warming world.
"More than ever, we need to open our eyes to our once-beautiful tourist state turning into kindling," Udall said. "Between decades of fire suppression, the long drought, the catastrophic wildfires and insects, our forests and ecosystems are truly at risk."
---

0 Comments on "Public policies must change dramatically in aftermath of wildfires, experts warn"
Be the first to comment below.