Rep. Tipton calls promotion of Avon campaign event an 'accident'
Use of congressional staff time a violation of House rules
ASPEN — Before a fireside chat with a youthful crowd of skiers and snowboarders here, U.S. Rep. Scott Tipton downplayed his staff's recently disclosed violation of House rules.
The lawmaker's staff broke congressional protocol in January when they promoted a campaign function in Avon. The staffers advertised the town hall event on Tipton's official website, and they released a media advisory about it in advance using House resources. It is against the rules to use taxpayer money for campaign purposes.
The Denver Post reported the violation on Friday
.
"One of our guys accidentally sent out an email he wasn't supposed to," Tipton told the Colorado Independent on Saturday. "We've addressed it."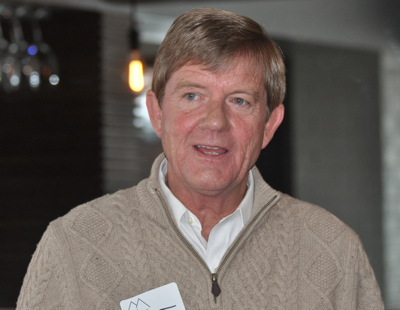 Avon is 10 miles west of Vail in Eagle County in an area that will be part of Tipton's new territory under a new congressional map designed to increase electoral competitiveness. Vail will continue to be in Rep. Jared Polis's district.
The congressman visited Aspen on Saturday as a guest of the Aspen Democracy Initiative, which aims to involve younger people in civic issues. About three dozen Aspenites — of all ages — showed up at BB's Kitchen to meet with Tipton.
The congressman expressed his enthusiasm for a bill he introduced that would provide blanket authorization for installation of small hydropower on all U.S. Bureau of Reclamation canals and conduits, and exempt small canal and conduit projects of less than 1.5 megawatts from the environmental assessment requirements of the National Environmental Policy Act.
"If we take full advantage of this, we can generate, just in Colorado, as much electricity as the Glen Canyon Dam," said Tipton, noting that the legislation made it out of committee and could be voted on in the House as soon as today.
The freshman congressman from Cortez represents the 3rd Congressional District - a sprawling and disparate territory so big that if it were flattened out, he joked, it'd be bigger than Texas.
"Just as we were driving in [to Aspen], I looked over and saw some jets that cost more than the entire budget that some [other] counties have to operate and to deliver services," he said.
Tipton is up for re-election in November. State Rep. Sal Pace, a Democrat from Pueblo, and Tisha Casida, an unaffiliated conservative businesswoman from Pueblo, are his challengers.
Getting out in the district and meeting with constituents, he said, is an important way for him to gauge concerns in Colorado that he can relay to Washington. Tipton also met with constituents in Glenwood Springs and Meeker on Saturday and he planned to return to Capitol Hill today.
---

2 Comments on "Rep. Tipton calls promotion of Avon campaign event an 'accident'"