Vail, Beaver Creek hit with 9 inches of new snow; more on the way
Vail and Beaver Creek got a much-needed shot of new snow Saturday night into Sunday morning, with official 5 a.m. snow reports recording 9 inches new at both Eagle County resorts.
The snow was still falling as of 7 this morning, with a few more inches possible before it's all over. Then another storm is headed for the Vail Valley Monday night into Tuesday, with another 2 to 4 inches possible.
Vail has had nearly a foot in the last two days and nearly two feet in the last week. The resort now has a respectable 34-inch mid-mountain base, with 26 of 31 lifts operating, 132 of 193 trails open and 2,325 of 5,289 acres available for snow riding.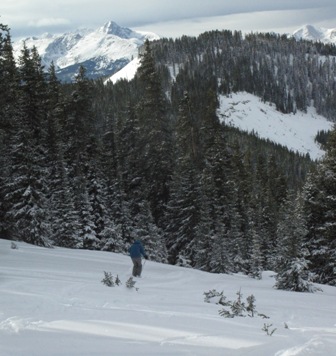 More terrain could come online today and Monday as the resort plays catch-up following a very slow start to the season, especially in December.
Beaver Creek also has received nearly two feet of new snow in the last week and currently has all 25 lifts operating, with 132 of 149 trails open and 1,503 of 1,815 skiable acres available. The resort has a 37-inch mid-mountain base.
The big winners in the weekend snow sweepstakes were Telluride (16 inches), Crested Butte (15) and Ski Sunlight (15). Ski Cooper and all of the Aspen area mountains also got a foot or more of new snow.
But the Vail Valley – a much closer drive for Denver-area snow riders – may still see a foot before the storm moves on. And conditions were already fairly decent on Saturday, especially in north-facing Blue Sky Basin, which just opened for the first time this season on Friday.
Open terrain in Blue Sky was a bit limited, but runs like Resolution off Pete's lift were boasting pockets of powder even before the latest storm rolled in around noon. Snow fell lightly all afternoon but picked up in intensity once the lifts shut down Saturday.
It's clear that Blue Sky could have been open a month or so ago, but access was the issue given how thin coverage was in China Bowl. January snow has greatly improved that situation, and access is no longer an issue.
Snowpack remains thin on south- and east-facing slopes – meaning snow riders should continue to use caution on the Back Bowls – but north- and west-facing aspects are approaching true mid-winter conditions. Today will be very soft all over the mountain.
The next big question is when Vail Ski Patrol will be able to open Chair 5 and Sun Down Bowl. If current weather patterns continue, it should be soon.

---

2 Comments on "Vail, Beaver Creek hit with 9 inches of new snow; more on the way"