Cuche tops Klammer, Schranz for most wins on Kitzbuehel's famed Hahnenkamm
Miller narrowly avoids crash, winds up 29th
Switzerland's Didier Cuche won a record fifth Hahnenkamm downhill today to surpass Austrian legends Franz Klammer and Karl Schranz for the most downhill wins at Kitzbuehel, Austria.
Klammer, covered in wet snow, was in the race finish to congratulate Cuche, who announced Thursday that he will retire from the World Cup tour at the end of the season. It was Chuche's third straight win on the Hahnenkamm.
Over a foot of heavy, wet snow fell overnight and throughout the race, forcing the jury to shorten the notorious Streif by three quarters of a second. Friday's super-G was cancelled because of the weather.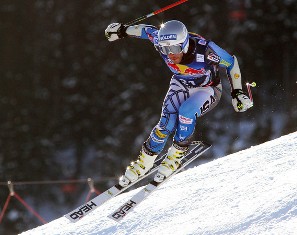 Today's downhill started on the Alte Schneise below the treacherous Mausefalle and Steilhang sections of the course.
New Hampshire's Bode Miller, who has never won on the most storied track on the World Cup downhill circuit, pulled off a miraculous save and narrowly avoided crashing just below the Hausberg jump. He wound up 29th.

"This was less than ideal conditions," Miller said, but in any race, someone is going to win. It's no fluke that Didier won. He's great off this start position and he's always strong in that middle section. That's where he's won this race a few times."

Miller said he knew he'd have to take some risks and push hard to win, but the course doesn't always reward risks.

"I made a save down here and it feels pretty good to make a save like that," Miller said. "Those are life savers. One hundred points [for a win] is great, but I'd much rather be in the finish with all my parts intact. For me, that's in some ways better than a win, so I'm really happy."

Klammer was impressed with Miller's save.

"That was an incredible save by Bode," Klammer said. "The fans love seeing skiing like that just as much as they love seeing wins."

Travis Ganong, of Squaw Valley, Calif., posted the top U.S. result with a personal best 12th, and Marco Sullivan, also of Squaw Valley, finished 17th.

"We look forward to this race every year and running from the top is just a blast," Ganong said. "You're missing a lot when you start where we did today, but it's still a ski race and [it's still the] fastest one from the top to the bottom who wins."

A slalom is scheduled for Sunday with points and prize money also being awarded in a traditional combined.
---

9 Comments on "Cuche tops Klammer, Schranz for most wins on Kitzbuehel's famed Hahnenkamm "