Vonn, U.S. Ski Team start training at Vail's Golden Peak
Ligety, Miller, Mancuso also take to snow in Vail
Olympic gold medalist and three-time Audi FIS Alpine World Cup overall champion Lindsey Vonn of Vail grabbed first tracks on Vail's Golden Peak today with a group of young racers from Ski & Snowboard Club Vail. Two lanes over were Olympic gold medalists Bode Miller and Ted Ligety and the full men's technical team.
"Being at home at Vail and having perfect training every day is such a great opportunity. I'm so thankful that I have such a supportive community behind me," Vonn said after winning the first race of the 2012 Audi FIS Alpine World Cup season in Soelden, Austria to become the first American woman to win in all five World Cup disciplines.
With today's runs, training at Vail's Golden Peak is officially open and serves as the perfect preview for the Saturday, Nov. 5 First Tracks event – the U.S. Ski Team Announcement – presented by Nature Valley.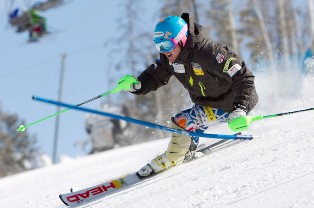 After crushing gates on Saturday afternoon, the entire U.S. Ski Team, including Vonn, Miller, Ligety and Olympic gold medalist Julia Mancuso will head to Mountain Plaza in Vail Village for a free First Tracks celebration that will officially introduce the 2012 U.S. Alpine Ski Team.
The venue opens at 4 p.m., with hot cocoa and cookies before the stage show begins at 4:30. The event will stream live on www.UniversalSports.com. Following the interactive program, fans will be invited to get autographs and take pictures with the U.S. Ski Team stars.
"I'm really excited for the U.S. Ski Team Announcement; last season so many kids came out and it was such a cool scene," added Vonn. "There was even a family from New Hampshire who flew all the way out to Vail just to meet our team. This year should be even bigger."
True to form, a family from the Granite State will again make the trek to Vail for First Tracks, though this time it will be for free after the Connor family from Bartlett, N.H., won a nationwide Facebook contest for a VIP weekend in Vail with the U.S. Ski Team.
"I have three nieces I taught to ski several years ago who are beyond excited to get sweatshirts signed by the U.S. Ski Team," said Anne Connor, whose son Mac is going to be surprised with the trip for his sixth birthday.
"It's almost Friday! We're packing the bags Wednesday night so we can hide them in the car. Mac still doesn't have a clue what's going on," added Ian Connor, who won the First Tracks contest that drew more than 2,000 entries.
To attend the First Tracks celebration with the U.S. Ski Team, check out lodging information and rates at www.marriott.com/ussa and for more information about Vail Mountain, visit www.vail.com or call (970) SKI-VAIL (754-8245).
Vail Mountain opens to the public on Friday, Nov. 18 and is immediately followed by the annual American swing of the Audi FIS Alpine World Cup, which opens with Vonn and Mancuso in action on Thanksgiving weekend during the Nature Valley Aspen Winternational in Aspen. The following weekend, Miller and Ligety tackle the treacherous Audi Birds of Prey races Dec. 2-4 in nearby Beaver Creek.
---

18 Comments on "Vonn, U.S. Ski Team start training at Vail's Golden Peak"