Ligety joins Vonn with GS win in Soelden
Park City, Utah's Ted Ligety, the defending Birds of Prey giant slalom champion, will return to Beaver Creek Dec. 2-4 with at least one World Cup victory under his belt already this young season. Ligety won today's GS in the season opener in Soelden, Austria.
The 2006 Olympic combined gold medalist is now a nine-time World Cup winner after matching Vail's Lindsey Vonn, who won her first GS Saturday in Soelden, and leading the United States to a sweep on the Austrian glacier.
Ligety, the defending overall GS titleholder and GS world champion, took a .18 second lead in the first run over Switzerland's Carlo Janka today and skied aggressively on the second run to take the win.
"You never really know what's going to happen," Ligety said. "I was skiing fast in training, but that really doesn't count for anything until you actually do it in a race. So to finally get prove how fast you are skiing is an added bonus that goes along with winning the first race of the year."
The wins by Ligety and Vonn in Soelden came just a week after the team announced a European Training Base partnership with Soelden/Oetztal/Obergurgl-Hochgurgl.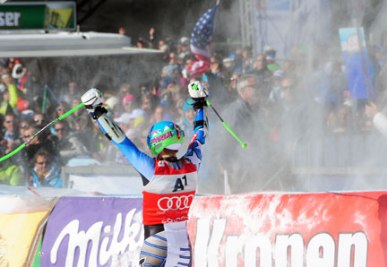 "It's great to have Soelden as our new European home," Ligety said. "I've always felt comfortable here and obviously have had a lot of success on this race hill. Just being able to train here last week was a nice advantage and having our own apartments just adds to the comfort."
Ligety was also pumped for Vonn, a Ski and Snowboard Club Vail product who represents Vail Resorts and has a ski run named after her on Vail Mountain.
"It's cool to see Lindsey win a World Cup GS," Ligety said. "I think it's been 20 years since an American woman has done that. What she did yesterday in Soelden was impressive and I feel sorry for all the girls who have to race against her. Now that she's winning in giant slalom too, it's going to be an uphill battle for everyone else."
American great Bode Miller was ninth today.
The U.S. Ski Team now heads for training in Colorado, including the opening of the U.S. Ski Team Speed Center at Copper Mountain and the First Tracks Alpine Team Announcement at Vail on Saturday, Nov. 5.
The Audi FIS World Cup resumes Nov. 12-13 with slaloms for men and women in Levi, Finland. The U.S. team will begin training in Colorado in advance of the next World Cups, including at Vail's Golden Peak.
OFFICIAL RESULTS
Audi FIS Alpine World Cup
Soelden, Austria – Oct. 22, 2011
Men's Giant Slalom
1. Ted Ligety, Park City, UT , 2:22.00
2. Alexis Pinturault, France, 2:22.29
3. Philipp Schoerghofer, Austria, 2:22.51
-
9. Bode Miller, Franconia, NH, 2:23.32
Did not qualify for 2nd run
Thomas Biesemeyer, Keene, NH
Will Gregorak, Vail, CO
Tim Jitloff, Reno, NV
Warner Nickerson, Guilford, NH
Did not finish 1st run
Tommy Ford, Bend, OR
Colby Granstrom, Lake Stevens, WA

---

48 Comments on "Ligety joins Vonn with GS win in Soelden"