Armstrong, Ritter to make major cycling event announcement in Denver Wednesday
Monday I posted
a story about the Vail Valley Foundation working hard
to make sure Vail is part of any statewide pro cycling stage race in 2011, based on a Denver Post story last week citing unnamed sources indicating an announcement was coming Wednesday.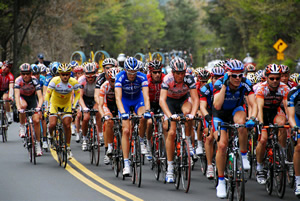 Today comes confirmation of that announcement from Gov. Bill Ritter's office. He'll be joined by seven-time Tour de France winner and part-time Aspen resident Lance Armstrong at 10 a.m. Wednesday on the west steps of the state capitol building in Denver.
Offering no more detail on the event announcement itself, the governor's office simply stated, "Armstrong will lead fans on a ride following the event."
Sounds like fun.
Some of the most fun I've ever had as a journalist came when I first moved to Vail in June of 1991 and covered the old Red Zinger Vail Village Criterium. That race represented the remnants of the old Coors Classic stage race, which also included incredible stages in and around Vail.
This community has massively supported competitive cycling in the past, including hosting two world mountain biking championships, and we need to do everything in our power to make sure we support this effort the way we back World Cup skiing.
The Vail Valley Foundation is, in my opinion, the premier organizing body for international sporting events in the state, including landing our third world alpine ski championship for 2015.
If you have any doubts about Vail being able to pull off local stages of a national and hopefully international cycling event, just ask anybody about the 1994 World Mountain Biking Championships, which drew a crowd of more than 20,000 spectators to Vail Mountain.
Don't get us wrong, Lance, we love your new home of Aspen (see our sister site
Real Aspen
), but don't forget about Vail when you set this thing up. We're closer to Denver, have a storied history of competitive cycling and know how to pull off big events.
---

35 Comments on "Armstrong, Ritter to make major cycling event announcement in Denver Wednesday"