The kids are all right: Vail Valley athletes know how to act, on and off the slopes
I tend to judge the character of athletes based on how they treat kids – my kids, specifically.
Whether it's big-time skiing stars like Bode Miller or Vail's Lindsey Vonn and Sarah Schleper, or rising stars like Eagle's Tanner Coulter or Vail's Heidi Kloser, snow sports athletes have always impressed me by remembering their roots and staying grounded – even if they're getting big air.
Miller, for instance, gets slammed by the public and the press for some of the things he's said and done over the years, but he can do no wrong in my book after treating my then 6-year-old son Nick like a champ at the 2006 Winter Olympics in Sestriere, Italy (see photo).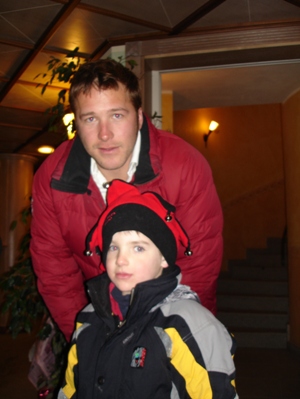 Vonn goes out of her way to endlessly sign for the throngs of young skiers who turn out every time the Ski and Snowboard Club Vail product does an event in Vail. SSCV's Schleper, now a mom herself, also clearly gets it when it comes to treating young fans with patience and respect.
Coulter, a free skier who's been winning events at a torrid rate lately, has always treated my three boys like young rock stars, not annoying little punks. A family friend, Coulter might not want this out there, but he's been raised right and doesn't big-time anyone when he's catching big air.
Catch him on NBC Saturday at 11:30 mountain time as part of the Rookie Team Rev Tour that had a solid showing in this week's Denver Big Air competition in downtown Civic Center Park, which by all accounts was a big success for the city and the snow sports industry in general.
Kloser, meanwhile, a freestyle mogul skier who was last year's International Ski Federation (FIS) Rookie of the Year, qualified for Saturday's World Cup moguls final in Calgary, Canada, site of the sport's debut as an Olympic demonstration sport way back in 1988. Saturday's event is the final qualifier for the FIS World Freestyle Ski Championships Feb. 2-5 at Deer Valley Resort in Park City, Utah.
Everyone in Vail knows her dad, endurance racing legend and mountain biking hall of famer Mike, but Heidi's increasingly carving out her own name. The Klosers live across the street from us in Vail, and Heidi has babysat for the boys a couple of times. Knowing the Klosers, even if she goes on to medal at Worlds or even in Sochi, Russia, at the Olympics in 2014, she'll keep it real with the kids, and they'll be able to say an Olympian once babysat them.
Another local athlete who needs to be commended for his character is Eagle-Vail's Chris Del Bosco. Edwards resident Scott Willoughby profiles him in today's Denver Post, focusing on his bid to repeat as ski cross champion at the Winter X Games in Aspen this weekend.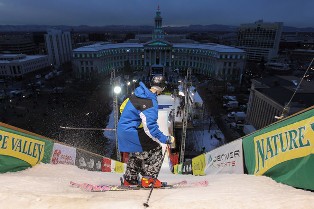 Having recovered from battles with alcohol and a crash at least year's Olympics that cost him a medal, Del Bosco has embarked on a charitable partnership with Denver-based Nokero, a solar light-bulb company founded by Vail Mountain School grad Steve Katsaros.
If Del Bosco becomes the first ski cross athlete to repeat as champion at the X Games (he goes for the gold in Aspen Sunday if all goes well in qualifying), Nokero will donate 1,000 solar bulbs to the Samburu tribe in Kenya through the Denver-based nonprofit Bold Leaders, according to the Post.
That's significant because of the number of deadly and disfiguring home fires in the third world resulting from all-too-prevalent kerosene lanterns. Real Vail co-founder Tom Boyd now works for Nokero, and the Del Bosco deal is yet another marketing coup for the start-up company that recently signed African soccer superstar Didier Drogba to represent the company.
Anyway, it's impossible to swing the skis on your shoulder at an international snow sports competitions these days without hitting some established or rising star from the Vail Valley, and, from personal experience, I can safely say they're all world-class representatives for the sport who know how to treat kids.
That's got to be a testament to the good parenting going on here in the greater Vail area. Way to go, athletes, and way to go parents. Good luck to all of you this weekend and the rest of the season.
---

88 Comments on "The kids are all right: Vail Valley athletes know how to act, on and off the slopes"