Series of storms moving into Vail, Beaver Creek
Aspen/Snowmass may miss out
Cold Arctic air will deteriorate as Thursday welcomes cloudy, yet warmer weather. We see a series of small storms move into the inter-mountain West on northwest flow as a moderate jet stream will move west to east over Idaho and Wyoming, giving areas like Jackson Hole, Big Sky and Alta/Snowbird a great shot at accumulating snow.
Vail and Beaver Creek should see moderate totals Friday through Tuesday. Limited snowfall is expected for Thursday as energy moves into our area early Friday, bringing accumulating snowfall for Friday morning.
Expect 3-6 inches for Vail/Beaver Creek for Friday morning, with on-mountain temps in the low 20s. Winds will be consistent from the northwest (10-20 mph), with ridge-top gusts in the 30s. We see a lull in the action Saturday before more energy revs up for Sunday.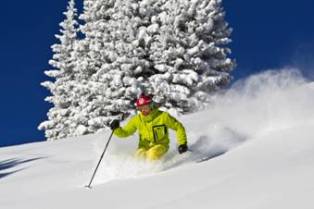 Martin Luther King Day could be another powder day, as more moisture and already cold and windy conditions will inhabit our region.
Aspen/Snowmass may see light showers Friday and Sunday, but any accumulating snow looks to stay north of the I-70 corridor. Temps for the Roaring Fork Valley will also increase, as on-mountain highs will be in the mid-20s, with west/northwest winds in the 10-20 mph range.
Not much changes for Aspen/Snowmass over the weekend; however, we will keep close watch to see if any of this energy moves south.
Finally, I made a mistake with the date for the Talons Challenge at Beaver Creek this weekend. In fact, the Talons Challenge will be held Feb. 26, with only 1,500 spots up for grabs -- giving you die-hard snow riders five more weeks to get your legs ready.
For now, let's send out some good vibes to the next wave of storms as we could all use another deep day on the hill.
Enjoy!
---

51 Comments on "Series of storms moving into Vail, Beaver Creek"