Snow, wicked cold heading into Vail Valley for New Year's Eve
Surprise! Snow decided to show up early. I arrived home late Tuesday night to clear and cold skies, not a cloud in sight, only a cold west wind. At least one inch on the ground in Edwards as I write Wednesday morning, with light snow falling.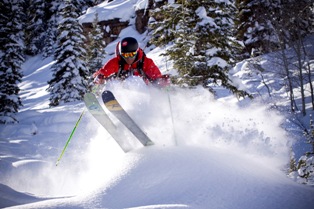 Radar shows active weather from Sacramento, Calif., to Vail. Always a good sign for those who like fresh snow underfoot. This storm system will arrive in two parts, as things have changed in the past 24 hours.
The system was forecasted to hit the southwest first before moving east ahead of another cold front to hit Thursday. West winds have changed that earlier forecast, as all of Colorado will be affected by the first low pressure system to move through.
On and off snow showers will be the norm for the next 24 hours for much of Colorado as strong cold front will move in mid-day Thursday. Look for snow totals Thursday morning in the 5-10 inch range for Vail/Beaver Creek, with Aspen/Snowmass recording totals a bit higher (6-12 inches).
Thursday will be "stupid cold," as on mountains highs will reach only the single digits. West/northwest winds will enhance the cold, as windchill factors will be in the -10 to -20 range for Thursday and Friday before warming up Saturday.
Snowfall will continue into Friday as a great powder day is almost certain for most Colorado resorts on the eve of the New Year. Aspen/Snowmass will be in the same boat as Vail/Beaver Creek, with higher snow totals for Thursday and Friday (6-12 inches) per day.
Higher amounts can be expected on northwest facing slopes as leeward parts of Vail should ski great by Friday morning. Overall a great way to end 2010 and begin 2011.
Please remember to cover exposed skin these next few days, and don't be afraid to take frequent stops in between powder runs to stave off the affects of frostbite.
Happy New Year!
Enjoy!
---

89 Comments on "Snow, wicked cold heading into Vail Valley for New Year's Eve"