High pressure building in after eventful weekend, but more snow heading Vail's way Tuesday
Still more snow in the future.
Vail Snow Daze 2010 lived up to the hype, as a stellar musical line up and more snow dressed the Vail Valley.
Nine inches were reported Saturday morning at Vail, but many people found double digit numbers anywhere east of Sun Up Bowl. Just west down I-70, Beaver Creek was given a lump of coal from Mother Nature, as only two total inches fell on the Beav' in the past 72 hours, while big sister Vail totaled 13.
Wondering about mid-mountain base? Don't. Both areas are covered. I can only imagine that more was on piste at the Beav', as cloud cover has been the norm for the past 24 hours.
Aspen/Snowmass reported 12 total in the past 72 hours, but as I wrote in my last post, deeper snow was surely skied on Ajax and Snowmass as convergence zones play a large role in our mountain weather. This weekend in Vail/Beaver Creek proved it.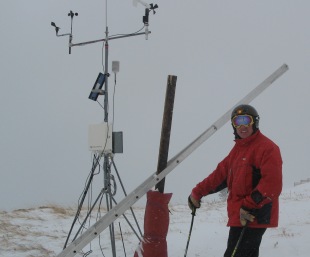 Our forecast for the week once again looks promising, as strong and short-lived high pressure builds from the south, bringing warmer temps and less wind. Monday will see partly cloudy skies and on-mountain temps in the high 20's. Winds will be light and circulating.
We see an expansive low pressure system carve into the west Tuesday, with west winds increasing, while temps remain mild (same as Monday). Tuesday night into Wednesday we see an increase of winds as the system nears.
Models show that the majority of energy will stay north into Wyoming, but we see a favorable jet stream above that could enhance orographic snowfall for the northern mountains. Right now, Utah looks like the big winner, but the storm has to move east at some point.
I'll leave Steamboat Springs out of the forecast, as the past two storms have looked very favorable for the Park Mountains, but like the San Juans, Mother Nature has no bias.
In fact, Breckenridge has been the recipient of numerous powder days this early season. It looks like the Ullr Parade has paid off. Two feet of snow has fallen since Friday at the old mining town. And with the much anticipated Dew Tour rioting into town (Dec. 16-19), plenty of snow is to be had.
Skiing in the central and northern mountains of Colorado is great so far, and with the holiday season approaching, one more powder day is surely upon us. For those of you who visit from the Mid-West and East Coast, de ja vu must be sinking in as your weather season is about to go full throttle.
If you can, get out of work/school early and come ski the Rockies. No one wants to be stuck in an airport on a powder day.
Enjoy!

---

56 Comments on "High pressure building in after eventful weekend, but more snow heading Vail's way Tuesday"