Vail Snow Daze heats up the Vail Valley, with still more snow in the forecast
Well, another case of being wrong the right way as Tuesday saw what was easily a foot of new snow at Vail. Beaver Creek reported four inches on Tuesday, but looking at my car in Edwards, more like eight had fallen overnight.
Another pour of gravy on top of an already stellar base has Vail/Beaver Creek and Aspen/Snowmass licking their chops for the upcoming weekend. And what a weekend it should be, as
Vail Snow Daze
gets heated up Thursday night at check point Charlie with Mix Master Mike of the Beastie Boys taking stage at 6 p.m.
Snow is in the forecast for Thursday through Saturday as a weak system should brush the northern mountains of Colorado early Thursday morning. Steamboat looks to be the beneficiary of most of the snow, but stranger things have happened.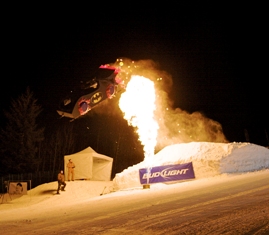 Friday, another more organized system works its way east under a strong jet stream, bringing good dynamics and colder temps. Winds will be brisk out of the west/northwest in the 15-25 mph range Thursday, with on-mountain temps in the 20's.Friday will again be breezy, with temps the same as Thursday. Scattered snow showers will turn moderate as nightfall approaches, with the heaviest snowfall occurring overnight Friday.
Look for morning report totals in the 6-10 inch range at Vail/Beaver Creek, with Aspen/Snowmass in the 5-8 inch range. Saturday showers will linger as another 2-4 inches could fall during the day.
Temps on Saturday will be cold, as high pressure begins to build behind the passing front. Look for on-mountain temps in the teens and winds from the northwest at 15-20 mph. Windchill will be a factor, so plan accordingly.
Overnight lows for concerts and bar hopping will be cold, with lows in the teens on Thursday and Friday, and very cold temps Saturday night and Sunday as clearing will bring temps into the single digits.
A great start to another eventful weekend in the Vail Valley.
Enjoy!
---

243 Comments on "Vail Snow Daze heats up the Vail Valley, with still more snow in the forecast"