More snow arrives as Vail, Beaver Creek gear up for World Cup weekend
Once again, snow in the forecast for race days
Monday saw 5 inches new at Vail and Beaver Creek. Aspen/Snowmass reported 3 inches, with cold temps draping both areas.
After four years of writing for Real Vail, I was finally able to ski with the editor-in-chief Dave O. Williams. A perfect 5-inch day on Vail Mountain, with nary a soul around.
South-facing aspects had a bit of crust underneath, but anything north-facing was soft underfoot. As Dave O has let us know, Blue Sky Basin will be opening this Friday, as skiers could hear the bomb blasts most of the day Monday.
Our forecast for the beginning of December looks promising as the World Cup returns to Beaver Creek and the weather will once again play a role in racing. We have a weak upper level disturbance that will move through today and tonight, leaving Vail and Aspen/Snowmass under cloudy skies, with snow showers developing overnight.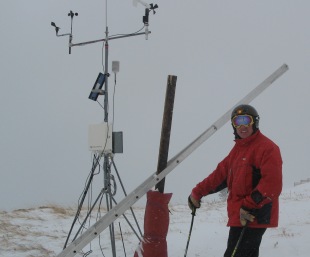 Look for 2-4 inches on the ground Wednesday morning for Vail/Beaver Creek and Aspen/Snowmass. Northwest winds will keep temps below average, with on-mountain temps in the teens and valley temps in the 20's.Winds will increase this afternoon into the 20's as this shortwave system passes. Winds will be brisk on mountain, so dress accordingly as I was a victim to wind burn Monday.
A brief break for World Cup training later this week as another stronger system works in from the northwest. Lon- range forecasts look seasonal, as we see a ridge of high pressure build from the south and flatten next week, leaving Colorado under sunny skies and cold temps.
Overall, a great outlook on the weather front as we will keep you up to date for the coming race weekend. With all of the excitement over the World Cup in Beaver Creek this coming weekend, there is something special about being in the mountains during the holidays.
Snow on the ground, lights in the trees, and a certain mummer humming around the Vail Valley as the busy season is upon us. Let us not forget why we live in the mountains, our own winter wonderland.
We've been spoiled this early season with great snow and no crowds; we as locals savor this time -- our time. But, soon enough, our guests will fall upon us, with expectations of great snow and better service.
As a community we have the obligation to pass our passion of snow sports on to those with 9-5 jobs and one-hour traffic commutes to small cubicles in the city (think the movie Office Space).
Let's make it a holiday vacation that would make Clark W. Griswold proud.
Enjoy!
---

36 Comments on "More snow arrives as Vail, Beaver Creek gear up for World Cup weekend"