Vail, Beaver Creek, Aspen, Snowmass grateful for pre-opening day snowfall
Orographic lift at its best; this is why we love the Rockies
One last round of snow will move through later this afternoon, with light snow falling in Edwards as I write. Our last batch of three shortwave storms moves out of our area late tonight, but not before dumping another expected 5-8 inches in Vail and Beaver Creek. Aspen and Snowmass will also benefit from this storm, with 4-7 inches on the ground by nightfall.
Temps will remain cooler with highs in the low 30's and lows dipping into the single digits overnight. Winds will again blow from the northwest into the 15-25 mph range as this front quickly moves through this afternoon. Expect blowing and drifting snow much of the afternoon with gusts over the ridge tops up to 40 mph.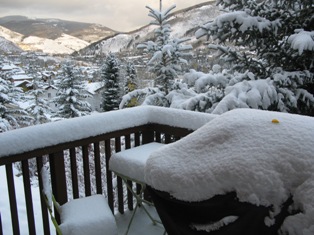 Opening day at Vail (Friday, Nov. 19) should be great, as strong high pressure will dominate over California, bringing Colorado tranquil weather for the weekend of Nov. 19-21. Temps for the weekend will be balmy for this time of year, with on-mountain highs in the upper 20's and lows in teens. Warmer weather is expected in the valleys, with highs reaching the 40's. Winds will be light, making for a great start to the 2010-11 season.Our next shot at significant snow will arrive early next week, as a large trough moves out of the Gulf of Alaska and combines with a strong southwest jet stream. This could be the storm that lights the fire as models show great dynamics, strong winds, and plenty of moisture. And if that's not enough, the castles that surround us can create their own weather. As has been seen these past days, snow has been pounding New York mountain, Holy Cross (near Vail) and Huntsman Ridge (west of Aspen) with light showers dusting the valley floors. The orographic lift that these mountains create can turn a seemingly small system into a significant snow-maker. Lets hope this pattern stays with us until April.Perfect timing as many Colorado resorts are only days away from dropping the ropes, including Beaver Creek on Wednesday, Nov. 24, Aspen Mountain and Snowmass on Thursday, Nov. 25, and nearby Ski Cooper also on Thanksgiving Day, Nov. 25.
Enjoy!
---

76 Comments on "Vail, Beaver Creek, Aspen, Snowmass grateful for pre-opening day snowfall"