Pomp and pep rallies prep Vail's opening day countdown
Just one thing missing
"Red sky at morning, sailor take warning" is an old mariner saying that still rings true.
For those of you up early this morning (Sunday, Nov. 7), with your clocks still acclimating to Mountain Standard Time (MST), magenta clouds to the east gave early warning of what's to come.
Nearly two weeks have passed since our last measurable precipitation, a whopper of a storm that dropped feet of snow throughout the mountains of Colorado and sent off tornado sirens from Nebraska to Wisconsin.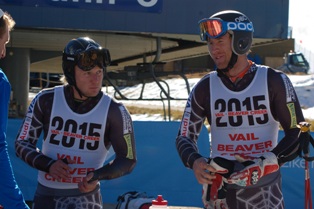 Our second round of Indian summer will come to a quick halt as the jet stream has shifted south and will bring with it an active storm period for much of next week (Nov. 8-13). Winds will increase this afternoon in the Vail and Aspen areas as a shortwave system will approach from the northwest with limited moisture and dynamics.

The real action starts Monday night, Nov. 8, with a better shot at snow as a cold front barrels into western Colorado. Overnight lows will drop Monday as the cold front moves through and sets off numerous showers. Winds will increase into the 20-mph range with gusts up to 30 mph as the cold front passes. Overnight lows will be in the low 20s and daytime highs for Tuesday should reach into the 30s.

Snow totals look good so far as dynamics and moisture appear favorable. Timing is everything as ground temps are still be above freezing, so totals will be higher if showers persist overnight.

Expect totals for Tuesday morning to range from 3-6 inches on mountain, with 1-3 inches in the valleys.Northwest flow will favor Steamboat and Vail, but the central mountains should benefit from the lift provided by the West Elk and Elk mountains.

The Aspen/Snowmass area should see on-mountain snow totals in the 4-8 inch range by late Tuesday with showers tapering off overnight. Wednesday looks partly cloudy, as one system moves east and another system works its way into the Colorado high country by Thursday.

We will keep close watch this coming week as more resorts drop ropes and start turning on lifts. And as Vail readies for the 2010-11 ski season, many of the top U.S. skiers have been taking advantage of a newly renovated snowmaking system at Golden Peak.

Partaking in pep rallies, autograph sessions, and, of course, training, names like Lindsey Vonn, Bode Miller, and Vail local Sarah Schleper have been spotted around America's No. 2 ski resort.

Finally, rumor has it that Vail's Chair 5 upgrade has been stalled by the recent dumping, making it hard for crews to maneuver in the nearly 3 feet of snow. Luckily, there are still 12 days until opening day at Vail, but Mother Nature may make a hassle of it until then.

For now, let's hope some of that white gold graces the greatest state in the union.
---

158 Comments on "Pomp and pep rallies prep Vail's opening day countdown"