Book Review: Pukka: The Pup After Merle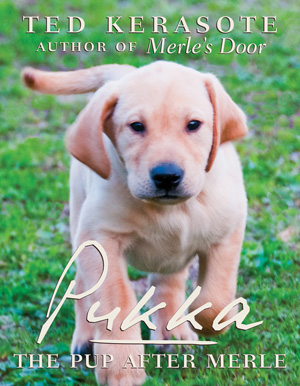 Time is your best friend.
That's because your real best friend is gone and it seems so disrespectful to bring another pet into the house. You physically hurt just thinking of your old buddy. Truly, there will never be a replacement.
When author Ted Kerasote lost his beloved Merle a few years back, he wasn't looking for a new dog. He wanted to give himself some time to mourn, but a chance encounter hundreds of miles away led him to "Pukka: The Pup After Merle".
Just before Ted Kerasote met the yellow lab named Abby, she'd had a litter of puppies. Kerasote, author of "Merle's Door", was on a book tour then and he couldn't take a puppy home. But he never forgot about Abby.
A year later, when there was another litter, Kerasote flew to Minnesota to see the pups. Seven weeks hence, he went back and picked a new pal.
It was a long drive from Minnesota to Kerasote's home in Wyoming, but the pair had a good adventure. Along the way, the pup gained a name, Pukka, which is pronounced like a hockey puck and is a Hindi word that means "genuine" or "real".
And thus, Pukka came to live in the mountains near Jackson, Wyoming.
As the seasons passed, Pukka grew and learned. He learned to come when called and to walk on a leash. He made some new friends, both the canine kind and otherwise, even though some animals were for watching and not for chasing. And he made his peace with water, which was scary at first.
When he was old enough, Kerasote began taking Pukka on trips and on long hikes. They climbed tall mountains and rafted wide rivers, visited big cities and small post offices. Pukka learned to scent and hunt, he learned his manners, and he grew up. Hiking was Pukka's favorite thing, but as long as he was with Ted, it was all good. He and Ted were a team.
This story of a yellow Labrador puppy was nothing like I expected. Certainly, it's nothing like its predecessor, "Merle's Door".
Pukka: The Pup After Merle" is filled with lots and lots of pictures; almost each page offers readers a photo or two of Pukka doing something cute or profound. But I say "readers" with caution because there's not much to read here. The pictures are the biggest feature of this book, which means there's not a whole lot of actual story involved. For most people, an hour is about all it'll take to finish.
What's worse – at least to me – is that this story is told "by Pukka", which was cute the first time somebody did it, but it's been overdone to death since. Yes, the dog is adorable. No, I don't want a saccharine faux-"first-person" account of his first six months.
Having said that, I think this book is best served as a gift for someone who is absolutely bonkers-wild-silly over yellow labs. For everybody else, "Pukka" isn't worth the money or the time.
---

733 Comments on "Book Review: Pukka: The Pup After Merle"