Udall rails against 'infamous Koch brothers' in campaign plea
Sen. Mark Udall is known as a moderate Democrat with solid western ideals. Lately he's made headlines for his "I-told-you-so" warnings about NSA domestic spying overreach and the need to reform the Patriot Act.
That kind of thing, one would think, would endear him even to rival Republicans -- the ones who endlessly foam at the mouth over government intrusion in our private lives (unless you're doing something in your private life they don't agree with).
Udall has also been a tireless if somewhat pragmatic defender of the "all-of-the-above" approach to diversifying our energy portfolio, including (gasp!) small-scale, modular nuclear expansion. He knows that wind and solar alone won't turn the tide of global climate change, and that stance has sometimes alienated his clean-energy purist base.
But his advocacy for a national renewable energy standard similar to Colorado's 30-percent by 2020 law has, more than anything, made him a target of the biggest billionaire fossil-fuel bullies on the block.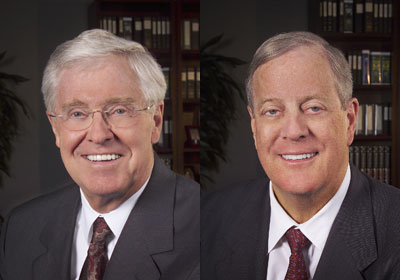 Udall on Sunday sent out a plea to constituents to donate to his 2014 campaign coffers in order to combat the "the infamous Koch brothers." He's referring to Charles and David, whose Koch Industries conglomerate has bankrolled the Tea Party movement and some of the most stridently conservative political candidates in recent years.
Not to be confused with the other Koch brother, Bill, who successfully battled against small-scale hydro near his Aspen home while simultaneously funding a coal-mine methane capture project near his massive replica western town near Paonia. That Koch brother has confused people by sometimes funding Democrats while simultaneously heaping cash on the GOP.
Anyway, here's Udall's plea:
Wow,
For months now I've been telling you to be ready for the oncoming rush of secret money from outside groups into Colorado. But, I didn't think it would come so soon.
Sure enough, we recently learned about Americans for Prosperity's (AFP) six-figure campaign to attack Democrats across the country. And I'm one of their top targets.
AFP was founded and bankrolled by Charles and David Koch — the infamous Koch brothers. Through AFP, the Koch brothers played a major role in the 2010 GOP takeover of the House of Representatives.
And in 2012 the group spent a staggering $33 million to try and boot President Barack Obama out of office.
Help me send the Koch brothers and their mega-million, special interest-aligned friends a clear message. Show them you've got my back and that their outside money won't measure up against our grassroots support.
Can you spare $5 today to go toward my end-of-quarter fundraising goal? We have $42,473 to go and one week to the reporting deadline.
Compared to 2010 and 2012, AFP's first round of attacks is a drop in the bucket. But Election Day is still months away, and Republicans have not yet announced who they have recruited to challenge me. This is right out of the Koch brothers' playbook. They're trying to soften me up for when their chosen right-wing ideologue jumps into the race.
The amount of money my campaign reports after next weekend's deadline will be scrutinized by many folks. The media, potential opponents and the Koch brothers will use it to gauge my strength. They will look at our fundraising results to determine if we're strong or vulnerable.
Could you help today with a $5 contribution?
Thanks for your support,
Mark
---

2 Comments on "Udall rails against 'infamous Koch brothers' in campaign plea"