Book Review: 'Becoming Jimi Hendrix'
The cheers and chants were just for you.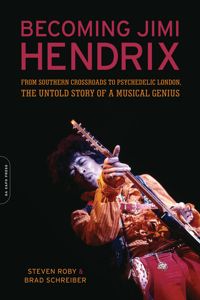 When the music started and you stepped onto the pretend stage, the imaginary crowd went wild. Make-believe spotlights shined on your fingers, moving quickly as you picked a song on your air guitar — your "specialty" — and you were famous.
In your own head, anyway.
If only, right? If only you could be like Jimi. But as you'll see in the new book "Becoming Jimi Hendrix" by Steven Roby & Brad Schreiber, being Jimi wasn't always that great.
Born while his (presumed) biological father, Al, was in the military, James Marshall Hendrix was originally named Johnny, after his mother's pimp. Following an ultimately-failed reconciliation with his wife, Al divorced her and, in 1951, collected his two eldest sons and left. Life was a constant struggle to make ends meet: Jimi took responsibility for his brother, and the two regularly scrounged or stole meals.
As a child, Jimi loved guitars and was so desperate for one of his own that, in elementary school, he carried a broom with him, and pretended. He made instruments from scraps and wire until he finally got his first real guitar, an acoustic one, for the small price of five dollars. He slept with it across his chest, just like he would with other guitars in the future.
Though he was shy, girls loved Jimi, but not even a steady girlfriend kept him out of trouble. Caught in a "crime wave", he was given the choice between jail and military service. Choosing the latter, Jimi left his hometown of Seattle and eventually landed at Fort Campbell, Kentucky.
There, his life changed.
The military wasn't a good fit for Jimi and he lasted barely a year, but living in Kentucky brought him closer to Nashville and the south, home of R&B and other up-and-coming musicians. Jimi gained a reputation for being a good guitarist, but he couldn't keep a job. He was, it seemed, unreliable and couldn't resist any chance to improvise.
And yet, while working with big-name groups and unknowns, Jimi honed his skills. He learned to play the guitar upside down, backwards, with his teeth, or behind his back. By the time he died at age 27, he was hailed as the greatest guitarist in rock history.
If you're looking for a chatty biography on Jimi Hendrix, look elsewhere. "Becoming Jimi Hendrix" almost strictly lives up to its title, methodically explaining Hendrix's path from poverty to "musical genius", including an extensive section on concerts, discography, and other minutiae. That means that there aren't a lot of anecdotes that don't explain his career.
But those few anecdotes, I thought, were the most intriguing parts of this book. Authors Steven Roby & Brad Schreiber tease readers with brief snippets of Jimi's personal life. Then they hint about the true circumstances of his death.
Forty years have passed since that death, and if you're a music fan or love the guitar, you just can't miss this book. For you, "Becoming Jimi Hendrix" is one to pick.


---

1690 Comments on "Book Review: 'Becoming Jimi Hendrix'"