Mid-week storms drop more than a foot of new snow at Vail, Beaver Creek
Friday morning update: Vail reported seven inches new Friday morning, and Beaver Creek checked in with 10 new. Those are respectable three-day snow totals of 15 and 21 inches respectively. It's absolutely bluebird out there Friday morning. Should be good.
Original report on Thursday afternoon: So if you're mulling over whether you should play hooky Friday and go skiing or be a good citizen and wait for the weekend, consider this. I wrote this just after 4 p.m., Thursday, and it's still snowing lightly in Vail.
That means the lifts have stopped running and at least a couple more inches of new snow will settle on top of the fairly consistent snowfall that sifted from the heavens throughout the day.
Only two inches fell in time for the Thursday morning report, which comes in around 5:30 a.m., but it was positively puking snow between then and about 9:30, when I hit the hill. At least another four or five inches had fallen, and it kept snowing lightly throughout the day.
I wish snow reports were done a little differently. Like one report for new snow between when the lifts shut down in the afternoon and when they crank back up again in the morning, and another report for snow that falls during the day and is therefore subject to punishment from snow riders like me.
On Tuesday, for instance, no new snow had fallen as of the 5:30 a.m. report, but just after that it dumped two or three inches before the lifts started running. Then the snow died off, and another band of snow rolled through right after the lifts closed.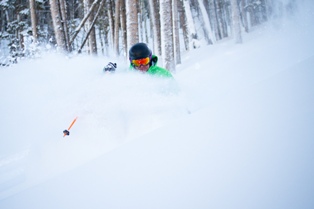 Wednesday morning, the snow report said six inches of new snow had fallen in the last 24 hours. True, but three of those inches got pretty much skied off. I was a little disappointed in Wednesday's conditions, especially when, just over Vail Pass, Copper Mountain received a foot of new snow. Still it was really fun out there Wednesday.
But nothing like Thursday morning, when conditions improved dramatically. I'm just guessing, but it skied like six to eight new on top of six on Wednesday. I guarantee you Vail eclipsed the 200-inch mark for the season – or about 17 feet. Now we just need another 150 inches (a little over 12 feet) over the next month and half and we'll hit our seasonal average. Could happen.
Regardless, if things keep going tonight (Thursday), Friday should be really, really good. Don't wait till Saturday, since this storm is supposed to peter out by Friday morning.
Thursday was day 38 for me at Vail Resorts mountains (mostly Vail) and day 44 overall (including a day each at Copper, Telluride and Arapahoe Basin, and three days last week at Crested Butte).
Because of the wonders of Epic Mix, I know that at VR mountains (Vail, Beaver Creek, Breckenridge and Keystone) I've skied more than 300,000 vertical feet this season, which earned me the "High Roller" pin. Since the advent of Epic Mix last season, I've skied 750,000 vertical feet at VR mountains – probably close to 1 million in two season if I factor in other resorts.
That's got to earn me something, right? Besides just a virtual pin. Maybe just the right to ski yet another powder day.
I can't hit it tomorrow (Friday), so if you can, make a few turns for me. Hopefully my tracks, even deep in the trees of WFO and Seibert's Stash, have filled in by Friday.
A word of warning for the weekend. Pent-up powder demand will be high, and crowds will likely be big, but be very careful going out any of the gates. The winds have been howling this week, and the
Colorado Avalanche Information Center (CAIC
) rated avalanche danger high around Aspen and considerable around Vail and Summit County on Thursday.
After this storm moves on Friday, things dry out until the middle of next week, so get out there and enjoy it while you can.
---

1 Comment on "Mid-week storms drop more than a foot of new snow at Vail, Beaver Creek"