Recent powder day at Crested Butte puts resort among state snowfall leaders
Storm cycle looks favorable over next 10 days
There's nothing quite like the lift line buzz in the minutes before first chair on a powder day. It may sound cliché, but it really is the closest we adults get to reliving the excitement of being a kid on Christmas. I was that kid last Monday in Crested Butte when Mom Nature dumped eight fluffy inches, nearly all of it falling after the lifts had closed the night before.
[Side note: I knew this thanks to the Crested Butte PowCam, which can be viewed in real time at www.skicb.com/powcam, and is swept clean every day at 4 p.m., thus providing the only truly accurate measure of how good the coming day will be. All ski areas should be required to employ such a device, and not just give us a blanket 24-hour number, which we all know can be woefully misleading if the snow happens to fall early in the previous day.]
Back in the Silver Queen lift line, the excitement was palpable. Like most of the ski resorts in Colorado, save those lucky southerners at Wolf Creek, Silverton, Purgatory and Telluride, the 2011-2012 season has been a little dry for the Butte. Up until a few weeks ago, the mid-mountain base was still in the 30's and many of the mountain's famed double-black-diamond steeps were either ultra-boney or still closed.
But on this day, as many of my fellow hooky players noted with glee, things were officially making a significant turn for the better. "Best day of the year so far," said my friend, guide and longtime local Butch Hegeman. And while I wont say I didn't hear the painful noise of rock on ski a few times, the mountain skied like a dream, with significant stashes of calf deep powder lasting well into the afternoon thanks to the fact that this was a non-peak-time Monday.
Best of the best were the steep glades of Morning Glory, which is far skier's left in Teocalli Bowl. The prevailing wind had pushed a little extra snow into the trees, creating a blissful steep staircase of powdery pillows. High fives, hoots and hollers were plentiful during the 10-minute hike from the bowl's base back up to Paradise Bowl. From there, we skated around to the frontside, then blasted down Sylvanite, which is one of those classic double-fall line runs with more great lines than a Cohen Brothers movie.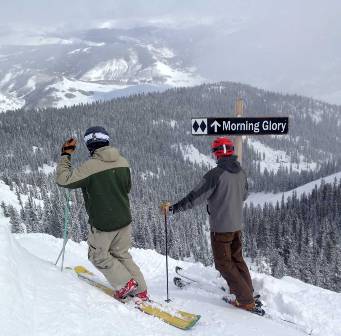 All told, Crested Butte's reported 16 inches since Sunday, and the mid-mountain base is now sixth highest in the state (53 inches) behind only the aforementioned southerners and Eldora, which has 56. Even better, there's snow in the forecast six of the next 10 days. Kind of sounds like Christmas.

---

541 Comments on "Recent powder day at Crested Butte puts resort among state snowfall leaders"