Udall, Bennet push for 'Good Samaritan' rules to help local groups clean up contaminated watersheds
Udall asks Forest Service chief to speed wildfire mitigation
U.S. Sens. Mark Udall and Michael Bennet, both Colorado Democrats, sent a letter to U.S. Environmental Protection Agency (EPA) Administrator Lisa Jackson Tuesday seeking clarification on the EPA's ability to facilitate third-party "Good Samaritan" cleanups of critical watersheds contaminated by hard-rock mining.
According to the Government Accountability Office, there are 7,300 abandoned hard-rock mines in Colorado, many of which are leaching heavy metals such as arsenic, mercury and lead into local water supplies, causing public health risks and endangering fish and wildlife habitat. Cleanup efforts by third-party citizen activist groups have been thwarted in the past by federal red tape.
Local groups like the
Eagle River Watershed Council
have had some success cleaning up streams, rivers and ponds in Eagle County that have been contaminated by mining as well as traction sand used on Interstate 70.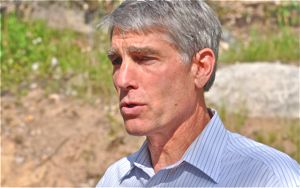 Udall has been trying for years
to pass "Good Samaritan" legislation that would streamline the process and allow groups to get involved in cleaning up local watersheds. Last session he introduced a bill, co-sponsored by Bennet, that never made it to the Senate floor.
"The EPA has existing guidance that encourages potential Good Samaritans to enter into voluntary agreements with EPA or federal land management agencies that helps to facilitate Good Samaritan cleanups," the senators wrote in their
letter to the EPA
. "We believe that the guidance could be updated to provide additional clarity to Good Samaritans that compliance with such agreements is sufficient to satisfy requirements that help protect environmental quality, including water quality."
Bennet and Udall were joined in their request to the EPA by Barbara Boxer, D-Calif., chair of the Senate Environment and Public Works Committee.
Also Tuesday, Udall grilled U.S. Forest Service chief Tom Tidwell on the status of the federal agency's efforts to mitigate the wildfire danger stemming from an ongoing mountain pine bark beetle epidemic killing forests surrounding many mountain communities in Colorado and
endangering the national power grid
that criss-crosses federal lands across the West.
Udall pushed for more collaboration between the Forest Service and electric utilities to clear dead trees from power lines, and Tidwell said the agency is working to get more work done this summer.
"We've got to get these negotiations concluded so we can ensure these power line corridors aren't going to either be subject to a fire because a tree falls on the line, or because you have a problem with the line that then triggers a fire and then those power lines are brought out of service," Udall said. "Let's see if we can bring some common sense to bear here and get a deal."
---

44 Comments on "Udall, Bennet push for 'Good Samaritan' rules to help local groups clean up contaminated watersheds"