State Sen. Schwartz pushes Congress to find more federal money to battle beetle-kill blazes
Early wildfire season on Front Range has mountain areas grearing up for long, hot fire season
The foothills and flatlands of Colorado's Front Range in and around Denver have so far only seen about a third of the average snowfall typical for this time of year, making March – normally one of the wettest months – an unusually active time for wildfires.
Whipped by brutally high winds the last several days, fires have broken out in Douglas County, southeast of Denver, and in Jefferson County to the west. And while firefighting crews were getting the upper hand on both the Burning Tree Fire (DougCo) and the Indian Gulch Fire (JeffCo) heading into the weekend, area residents and local lawmakers are still very nervous.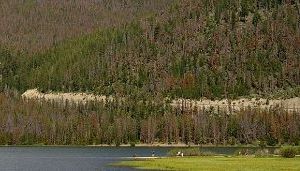 On Thursday, Gov. John Hickenlooper
issued an emergency disaster declaration
and allocated $1.5 million in state funds to pay for firefighting efforts in Jefferson County. Even as he was doing that the Burning Tree Fire blew up between Parker and Franktown in Douglas County, forcing the evacuation of 8,500 residents. That fire was almost 100 percent contained by Friday morning, with no injuries or homes lost.
Still, state Sen. Gail Schwartz, D-Snowmass, whose mountain district contains wide swaths of beetle-killed national forest, sent a letter to members of Colorado's congressional delegation Thursday pleading for a serious push to allocate additional federal fire suppression funds for Colorado this summer – anticipating what could be a long and intense wildfire season.
Last fall saw the most costly wildfire in state history in terms of property damage when Boulder's Four Mile Canyon Fire destroyed 166 homes. U.S. Sens. Mark Udall and Michael Bennet asked U.S. Agriculture Secretary Tom Vilsack to treat Colorado's ongoing
mountain pine bark beetle epidemic as a national emergency
.
The recent wildfires on the Front Range have not involved significant beetle-kill tree stands, although the rice-sized insects are moving eastward, but most wildfire experts say it's a matter of when not if a major, catastrophic blaze erupts in the worst of the state's beetle-kill areas. For now, the snow pack is above average in most mountain areas. — it's just the Front Range that's tinder-dry – but a few weeks of dry, hot weather can change that in a hurry.
"The state and local governments and stakeholders have been working tirelessly to address the growing concerns around Colorado's forest health," Schwartz said in her letter. "We need our congressional delegation to stand with us and remain strong partners as we strive for solutions that will protect local communities, valuable resources, and our state economy from disaster."
---

161 Comments on "State Sen. Schwartz pushes Congress to find more federal money to battle beetle-kill blazes"