Vail's Del Bosco nabs first World Cup ski cross victory of the season
LES CONTAMINES, France -- Vail's Chris Del Bosco ended his season-long wait for a podium finish today with victory at the ski cross World Cup stop in France.

The dual-citizen X-Games champion who skis for the Canadian Ski Team led from start to finish in the final to secure the win in style, while teammate Kelsey Serwa, of Kelowna, B.C., was second in the ladies' race after narrowly losing a photo finish to Ophelie David, of France.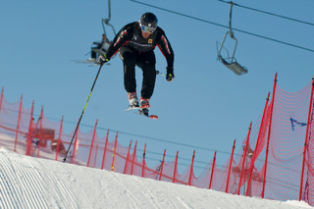 "It feels great. I've come so close but I haven't been able to do it," said Del Bosco, who has had two fifth-place finishes on the World Cup circuit this season. "I've been skiing well enough to win but everything kind of worked out today."
Del Bosco, who has worked at improving his starts this year, struggled in his semi-final.
"I had a pretty ragged semi-final but I just fought through that," said Del Bosco. "I managed to get the lead again in the final. I got out clean and there was a little bit of tangling behind me, which gave me a little gap and I was able to hold it together."
Austria's Andreas Matt finished second and Egor Korotkov, of Russia, was third.
On the ladies' side, Serwa got another strong result and was unlucky not to win for the second successive week, following her first-place finish at Alpe d'Huez, France.
"I was in fourth the whole way down - I had the best seat in the house," Serwa said of Sunday's final. "I was just waiting for a chance to pass and they all kind of got tangled up."
Serwa and David broke through and Serwa nearly edged the French star at the line. Sweden's Anna Holmlund was third and Marion Josserand, of France, finished fourth. The win moves Serwa to the top of the World Cup standings ahead of Germany's Heidi Zacher, who was third in her semi-final Sunday.
"Kelsey got to the final and had the last pick for the start. She just relaxed and let things play out in front of her," said Eric Archer, head coach of the Canadian ski cross team. "She squeezed through from fourth to second and it was a photo finish. She missed by the length of a hand. It was an exciting final."
McIvor made it through to the semi-final stage but finished fourth in her heat.
"Ashleigh wasn't totally feeling this course so her confidence was lacking," said Archer. "In her semi-final she got pinched on a turn and she thought she missed the gate. She ended up in the small final."
---

19 Comments on "Vail's Del Bosco nabs first World Cup ski cross victory of the season"