Vail's new high-speed Chair 5 to debut Friday
Reportedly delayed slightly by more than 100 inches of early season snow (a good problem to have), Vail's new High Noon Express (Chair 5) will crank up for the first time at 9 a.m., Friday.
The chair has been replaced by a high-speed quad that cuts the ride time from 12 minutes on the old, fixed-grip triple chair to six minutes. The lift serves Vail's Sun Down Bowl, meaning all of Vail's Back Bowls will be open by Dec. 10, giving Vail 5,000 skiable acres two weeks ahead of the Christmas rush.
And the skiing should be excellent, with two storms heading into the Vail Valley this week, according to
Real Vail's Powder Predictor blog
.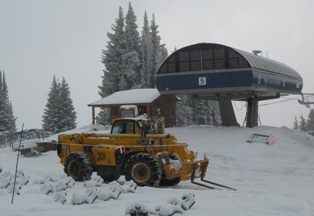 To celebrate the lift's debut, Vail wants snow riders to gather at the top of the lift for complimentary cookies, hot cocoa and commemorative lapel pins (while supplies last). Long-time Vail locals and founders Pepi and Sheika Gramshammer will take the inaugural ride up the new lift.
"There is nothing on earth like Vail's Back Bowls on a powder day, and with 70 percent more capacity and half the ride time of the old lift, the new Chair 5, will allow our guests to move quicker up and around the mountain and get even more out of their days," Chris Jarnot, senior vice president and chief operating officer of Vail Mountain, said in a release.
The Back Bowls have been part of the ski scene since Vail opened in 1962 with only a gondola out of the village and two chairlifts, including the original lift out of the bowls. The area surrounding the new lift is made up of Sun Up Bowl on the east side and Sun Down Bowl on the west, with High Noon Ridge standing between.
Pepi Gramshammer was among the first to ski the terrain prior to its public opening in December of 1962, and he'll always be linked to the long "Forever" trail, which he skied with Vail pioneers Dick Hauserman, Bob Parker and Morrie Shepard before the lift was installed. Gramshammer said that he thought it would take them "forever" to hike back out.
It's hoped that the new lift, manufactured by Leitner-Poma of America, will improve skier and rider circulation in the Sun Up and Sun Down areas and also provide an alternate route for snow riders moving west from the top of the Teacup Express Lift (Chair 36) at the end of the day. The new lift increases Vail's uphill lift capacity to 59,092 people per hour.
---

302 Comments on "Vail's new high-speed Chair 5 to debut Friday"