Snowmass unearths mammoth marketing mojo after being left for dead in real estate bust
SNOWMASS — It wasn't long ago that chatter on the mall here centered on a different kind of skeleton.
Parts of Base Village — the mammoth development built to pump new life into the bottom of the family friendly ski area just around the corner from Aspen — were draped in massive sheets of plastic. Rain regularly dampened the mood at the free weekly concerts on Fanny Hill. Cash registers sat silent.
The patrons who did trickle into stores frequently inquired about the skeleton of Base Village, which is unfinished and bogged down in foreclosure while the lenders and developers duke it out in the courts.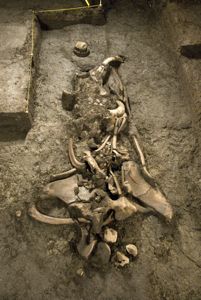 "Summertime business is disappearing," lamented David Chalmers, the owner of Goodfellas Pizza. "We have to give people a reason in the summertime to take a left or a right on 82 to come up here."
Three weeks after Chalmers implored Snowmass "to find something" to bolster summer tourism, Gould Construction's Jesse Steele did exactly that. On Oct. 14, he found something really, really big.
While expanding Ziegler Reservoir to quench the ski area's thirst for snowmaking, the bulldozer-driving Steele pushed up the bones of a Columbian mammoth that will forever change Snowmass. Since then, crews have unearthed a minimum of five mastodons, two or three mammoths, a Jefferson's ground sloth, four Ice Age bison, two deer, a salamander, along with ancient plants and trees.
Now the little village once consumed with the dismal economy is buzzing with Ice Age nostalgia.
Over the weekend, the Denver Museum of Nature & Science hosted a "Mammoth and Snowmastodon Madness" fossil extravaganza, which attracted so many people that Pitkin County issued alerts warning of slow moving on Brush Creek Road. Several locals who attended said they waited in line for hours.
Local entrepreneur Jack Rafferty is digging the find so much he's launched Snowmasstodon.com, which plans to begin peddling embroidered hats, T-shirts and hoodies sometime around Thanksgiving.
Town officials expect to sit down with the Denver Museum of Nature & Science sometime after the holidays to brainstorm a marketing plan to boost the image of Snowmass and its scientific partners.
"Snowmass and the museum will never again be the same," noted George Sparks, the museum's CEO.
There is no shortage of ideas on how to capitalize on the mammoth and mastodon mother lode. Some residents have suggested building a pavilion at the dig site to rival La Brea Tar Pits in California. A hiking or mountain bike trail to the site is another idea. Museum officials have agreed to cast one of the most iconic Ice Age skeletons they find on the site for a Snowmass exhibit, but some residents are pining for the animals' actual bones to be displayed.
On Monday night Snowmass Town Council named Widespread Panic's tune "Big Woolly Mammoth" as the village's official song, even though no woolly mammoths were found here. There is also talk of renaming a ski run in honor of the Ice Age excavation. A mammoth snow sculpture is also in the works. So is an "I Dig Snowmass" marketing blitz.
Snow will chase paleontologists out of Ziegler Reservoir today. They will return in the spring when the weather warms up to uncover what else may be locked beneath the reservoir's frozen ground.
Tourists are expected to follow.
Marketers can only hope enough of them come to bury the bad Base Village publicity.
---

80 Comments on "Snowmass unearths mammoth marketing mojo after being left for dead in real estate bust"