As snow dusts Vail's Gore Range, Arapahoe Basin, Loveland crank up snow guns
This time last year Arapahoe Basin was already open for skiing – its earliest opening day ever. But with balmy temperatures dominating most of September and early October, A-Basin on Saturday just now fired up its snowmaking system in earnest.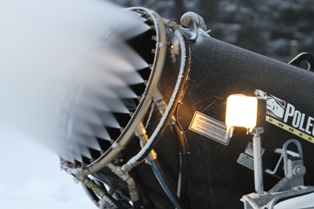 "Snowmaking at
Arapahoe Basin
began last night," Arapahoe Basin director of marketing and communications Leigh Hierholzer said today. "Eighteen guns were firing on the intermediate High Noon run. Operations will continue as weather permits. A-Basin's high speed quad Black Mountain Express will be up and running on opening day."
Loveland Ski Area at the Eisenhower Tunnel on Interstate 70 has already been intermittently making snow, first firing up about 20 of its 32 snow guns in September. Warmer temperatures forced the resort to put operations on hold until Friday, but then the more seasonal weekend weather
got things going again
. Loveland typically challenges A-Basin to be the first ski area in the state to open for business.
"We got a little bit of natural snow over the weekend to complement our snowmaking efforts," Loveland spokesman John Sellers said. "We had a very productive weekend and it looks like the temps will stay cool this week. so we will keep making snow as weather permits."
No word yet on opening days for either resort.
"Opening day is weather dependent and has yet to be determined," A-Basin's Hierholzer said. "The race is on."
Locally, despite an inch or two of new snow high on the Gore Range, a Vail spokeswoman said "not yet" when asked if Vail or Beaver Creek had started making any snow. Of course, both resorts are still more than a month away from opening – with Vail scheduled for Friday, Nov 19, and Beaver Creek scheduled for Wednesday, Nov. 24.
Beaver Creek could start making snow in the next week or two, especially high on the Birds of Prey race course, where a huge base is needed to conduct men's World Cup races Dec. 3-5. The weather for the next week or two looks conducive to snowmaking efforts, according to Reid Griebling, Real Vail's "Powder Predictor."
Griebling is still a bit in golf mode, so check out his latest "
Fairways and Greens" blog
, where he talks about the coming fall weather and off-season remodels going on at the Eagle-Vail golf course and Vail Golf Club.
As for the local World Cup ski races, the Vail Valley Foundation recently announced that the World Cup Committee once again confirmed a three-race schedule for Birds of Prey this coming winter at the FIS Fall Meetings in Zurich.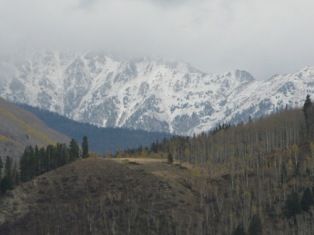 Slated for Dec. 3-5, the 2010 Birds of Prey World Cup Race Week will include a men's downhill (Friday, Dec. 3), super-G (Saturday, Dec. 4) and giant slalom (Sunday, Dec. 5)."The 2010 Audi Birds of Prey World Cup Race Week in Beaver Creek will literally be our first step on the road to the 2015 FIS Alpine Ski World Championships," Michael Imhof, vice president of sales and operations for the Vail Valley Foundation, said in a release.
"The brand awareness and animation that has been established for Birds of Prey is well recognized and respected throughout the world and these races will be even more closely monitored now that we have secured the 2015 World Championships."
The initial Birds of Prey schedule called for downhill, giant slalom and slalom, but an early summer agreement with France sent the Beaver Creek slalom to Val d'Isere in exchange for their super-G.
"Preparing a Super-G course in Val d'Isere in the second week of December is a real challenge," Imhof said, "so the French organizers were very keen on the race trade. For us, a super-G is much more of a showcase race for the Birds of Prey track and we were happy to be able to accommodate, in cooperation with the FIS."
The Birds of Prey races are the only events for men's World Cup athletes in the United States this season – and the only chance to see 2010 Olympic medalists Bode Miller and Andrew Weibrecht and 2006 Olympic medalist Ted Ligety.
For more information on the Birds of Prey, visit
www.bcworldcup.com
. For more information on the Vail Valley Foundation, call (970) 949-1999 or go to
www.vvf.org
.
---

72 Comments on "As snow dusts Vail's Gore Range, Arapahoe Basin, Loveland crank up snow guns"