In wake of wildfires, Udall, Bennet call on forest chief Vilsack to declare pine-beetle 'national emergency'
Citing last month's wildfires near Boulder and Loveland and the ongoing Church's Park Fire in Grand County, U.S. Sens. Mark Udall and Michael Bennet are asking U.S. Agriculture Secretary Tom Vilsack to treat the pine bark beetle epidemic as a national emergency.
The two Colorado Democrats in a release today said they are leading a bipartisan effort to get Vilsack to "rededicate" an additional $49 million in existing funds to help clear dead trees and perform other forest mitigation work to decrease the fire risk in the U.S. Forest Service Region 2, which includes Colorado, Wyoming, South Dakota, Kansas and Nebraska.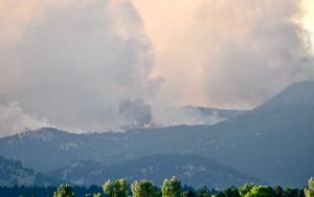 "The bark beetle has created a national emergency, and work to protect public safety, infrastructure and human lives should be funded as such," the senators wrote to Vilsack. "Therefore, we encourage the USFS to supplement Region 2 funding to adequately address this disaster, which is decimating the West."
Eagle County and the national forest surrounding Vail and Beaver Creek have been hit hard by the insects, and local firefighters and emergency management teams from the county, state and federal governments have been working to create 'defensible space' around local communities.
Last year Bennet and Udall got Vilsack to channel $40 million in existing funds into mitigation efforts in Region 2, of which $30 million is now being used to reduce fuel loads in Colorado's White River, Medicine Bow/Routt and Arapaho/Roosevelt national forests.
In the wake of the
costly Fourmile Canyon blaze
west of Boulder last month, which consumed 166 homes, environmentalists and politicians –
including Boulder's mayor
– pointed to climate change as a key contributor in the ongoing bark beetle epidemic that has killed more than 2 million acres of lodgepole pines in Colorado and Wyoming.
Scientists generally agree that warmer historical temperatures have contributed to the outbreak because there have not been enough prolonged cold snaps to kill beetle larvae during the winter months. But
some studies suggest
forests are not any more susceptible to wildfire because of the beetle kill outbreak and that resources for clearing trees too deep into the forest should be limited.
Still, firefighters generally agree that the huge fuel loads presented by massive swaths of dead forest make battling blazes in and around communities all the more problematic, and one of the greatest concerns is
clearing dead trees away from the state's hundreds of miles of power lines
that criss-cross public lands.
Vail's fire chief said beetle-kill fires can burn hotter and send off more "spot fires" away from the main body of the blaze.
---

34 Comments on "In wake of wildfires, Udall, Bennet call on forest chief Vilsack to declare pine-beetle 'national emergency'"