Beaver Creek blasted by state-best 8 inches as weekend storm set to bring more
It was Beaver Creek's turn for a surprise powder day on Thursday, as the resort 10 miles to the west of Vail topped the state with 8 inches of new snow. Vail chimed in with 3 inches new that seriously softened up the slopes after a fairly warm and dry week.
And best of all, significantly more snow is in the forecast for this weekend, with both Vail and Beaver Creek expected to receive anywhere from 5 to 14 inches of new snow between Friday night and Monday.
Last week, Vail enjoyed a surprise Thursday
powder day
that was under-reported at 9 inches but skied a lot more like two feet. This week it was the Beav's turn.
According to Opensnow.com, Wednesday night's pasting was just the beginning of a snow cycle that will last throughout the weekend, with more than a foot of new snow possible and Sunday likely the best powder day.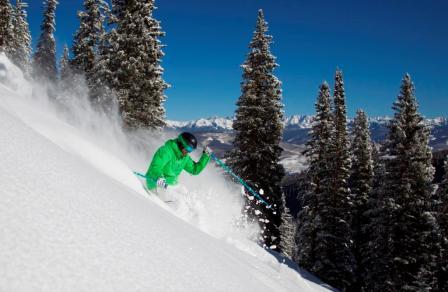 "Then it'll be dry Tuesday/Wednesday before another storm slips through on Thursday/Friday of next week," reports Opensnow.com meteorologist Joel Gratz. "The second half of February should produce more consistent chances for snow with a favorable pattern setting up."
All of that will help with the state's below-average snowpack, which currently stands at 72 percent of normal. Locally, nearly three feet of new snow in late January helped push that number closer to 74 percent, and the in the San Juans – where the bulk of the late January snow fell – snowpack is at 88 percent of the average annual amount.
Beaver Creek, which earlier this week opened parts of its Stone Creek Chutes area, has seen nearly 11 feet of snow so far this season. Vail has been a little ahead of that pace with about 12 feet so far. Both areas average more than 25 feet of snow each season, and February, March and April tend to be three of the snowiest months.
Vail will keep all of its front-side lifts open until 4 p.m. starting Friday.
---

82 Comments on "Beaver Creek blasted by state-best 8 inches as weekend storm set to bring more"